C-Store Construction and How ADA Compliance Is the Future
Posted on: July 15, 2022 in Convenience Stores
Share:
Accessibility lets more customers patronize your convenience store and makes work easier for all your employees. Meeting Americans with Disabilities Act (ADA) and California Building Code (CBC) accessibility requirements for your store are not optional. Your building must meet these guidelines to protect your business from lawsuits or fines and ensure it has a design that will remain relevant in the future. 
Achieve ADA Compliance In Your C-Store Construction
Why Meeting ADA Accessibility Requirements for C-Stores Is Important 
Meeting ADA and CBC requirements for accessibility are vital to improving access to your c-store. According to the Centers for Disease Control, 26% of Americans live with some type of disability, including visual or hearing impairments, difficulties with independent living or self-care, cognition issues and mobility difficulties. By making your business accessible, you open it up to many more potential customers and their families who travel with them. Additionally, you avoid lawsuits and fines that could come when your building does not meet regulations.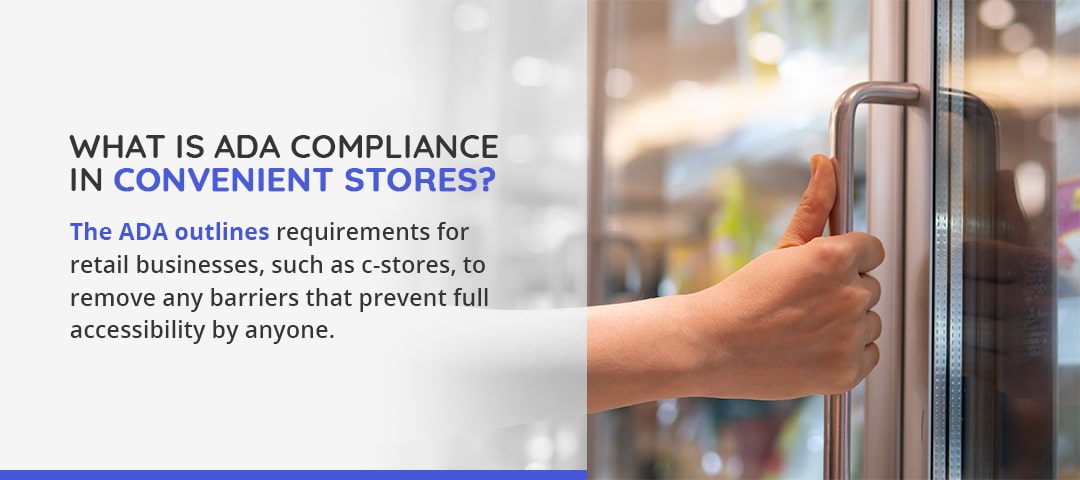 What Is ADA Compliance in Convenient Stores? 
The ADA outlines requirements for retail businesses, such as c-stores, to remove any barriers that prevent full accessibility by anyone. The rules apply to both existing and future construction. The latest changes updated the 1991 requirements to the 2010 ADA Standards. These updates show ADA trends for convenient store construction that have greater accessibility and clearer requirements. 
For example, per the 2010 Standards, one out of every six accessible parking spots must be van accessible. This increased the number of spots from the 1991 Standards, which only required one of every eight accessible spots to allow for van parking. Additionally, lots with four or fewer spots must save at least one for accessible parking with an access aisle allowing a clear path to the c-store entrance.
Compliance means making every part of your c-store accessible for anyone, from the gas pumps to the restrooms. Even the aisle spaces in your store fall under ADA regulations. Meeting these requirements will also make your store more comfortable for others who may not need the accessible features but benefit from easier-to-open doors and wider aisles.
ADA Remodeling for Convenience Stores
Even if your building has been in place for decades and has never been remodeled, you still need to remove barriers to your business. The 1991 ADA Standards covered most guidelines for existing facilities. Those requirements mandated the removal of any barriers as long as the process did not cause too much expense or difficulty. Examples include adding ramps to entrances with steps, making door hardware easy to use, creating larger bathroom stalls, widening entrances, creating curb cuts from the parking lot and moving shelves to widen aisles. 
Upgrading your facility with ADA renovations for c-stores will help bring in more business by allowing a wider range of customers to shop, including aging patrons. 
How Does ADA Compliance Affect Stores in California? 
In California business construction, buildings must meet both ADA and CBC requirements for accessibility. Even existing buildings that have had any alterations since 1970, per California law, or 1992, per ADA requirements, must be accessible. 
Meeting one does not automatically guarantee fulfillment of the other requirements. A property inspection by a Certified Access Specialist (CASp) can determine how much your c-store complies with accessibility requirements. The inspection report can guide you in remodeling for an ADA convenience store design that meets state and national requirements.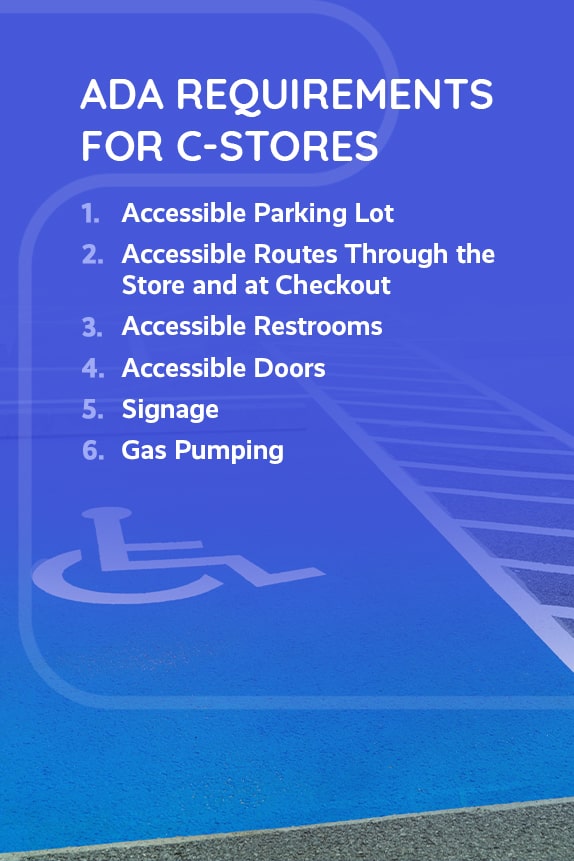 ADA Requirements for C-Stores 
ADA construction for convenience store locations eliminates barriers. Every aspect of your business needs to have accessibility in mind, from design to project execution, and completed with a CASp inspection verifying compliance. 
1. Accessible Parking Lot
The parking lot, even if small, must have at least one accessible spot with an adjacent aisle reaching the entrance. ADA requirements outline measurements for accessible parking spots, access aisles and signage. 
For small lots of four or fewer parking spots and one accessible spot, you do not need a parking sign but must label the spot on the ground. Larger lots require 60-inch signs with the international symbol for accessibility. Label van spots as "van accessible" on the sign. 
Each spot should measure eight feet wide, including spots for accessible cars. Van accessed spots must be 11 feet wide unless adjacent to an eight-foot-wide access aisle. Standard access aisles should measure five feet wide and be as long as other parking spots. Keep accessible spots and access aisles clear of snow and other debris throughout the year. Install curb cuts or ramps from the access aisles to let those who use wheelchairs access the sidewalk and entrance to your c-store.
2. Accessible Routes Through the Store and at Checkout 
Routes to the entrance, through the store and the checkout area must all allow for easy access by those who use wheelchairs. Shelves have no height restrictions per the reach requirements under ADA guidelines. While not required, keeping heavier items on lower shelves will help those with mobility issues and make stocking shelves easier for employees. 
At least one counter should have a lower height to allow access by those with mobility aids. In lieu of a shorter counter, a folding counter may suffice. The floor around the accessible counter must remain clear enough for a wheelchair to fit and maneuver in. 
The accessible route through the store and between the aisles must measure at least three feet wide. Accessible counters should also be equally wide. These dimensions ensure anyone can get through the store and successfully checkout. By making accessing the products sold easier, you increase the chances of making sales inside your c-store. 
3. Accessible Restrooms 
Restrooms need to be accessible, even if you only have a single-stall unisex bathroom. Toilets in accessible restrooms or stalls should have seats between 17 and 19 inches from the ground. On the walls next to the toilet, you must have grab bars located between 33 and 36 inches from the floor. 
The lavatory, soap dispenser and paper towel dispensers should all be easy to access with clear knee space beneath lavatories. Accessible sinks should be 34 inches or lower from the floor.  
4. Accessible Doors  
Accessible door openings cannot have anything blocking them. You must maintain at least a 32-inch width through the door opening, the same as aisle spacing. For door openings at least 24 inches deep, the minimum width is three feet (36 inches). The type of door opening will also impact the needed measurements for the entrance. All doors to accessible areas must adhere to these door opening guidelines. 
5. Signage 
Clear signage with universal symbols and braille should be used throughout your accessible c-store. This category is one in which California has additional requirements, especially for restroom signs. Per the ADA, nationwide restrooms only need one sign to show where the public restrooms are. The sign needs braille lettering indicating gendered bathrooms. Pictograms, though common, are optional per ADA rules for gendered facilities. However, accessible facilities must have the international symbol for accessibility. 
California has additional accessibility requirements for restroom signage. These signs do not require braille, text or pictograms. Instead, they must have raised symbols in a contrasting color with the door. Women's restroom doors use a 12-inch wide circle, men's have an equilateral triangle measuring 12 inches per side and unisex facilities include the triangle shape within a circle. 
6. Gas Pumping  
C-stores that sell gas must account for accessibility at the pumps. Stations offering only self-serve gasoline must provide assistance with pumping gas for those with disabilities when feasible. Call buttons on the pumps or signage instructing the driver to honk are accepted ways of alerting the attendant for help. Assistance may be a worker coming out to pump gas for the driver or remotely activating the pump from inside the store. Additionally, the station cannot charge more for this service than the self-serve gas price.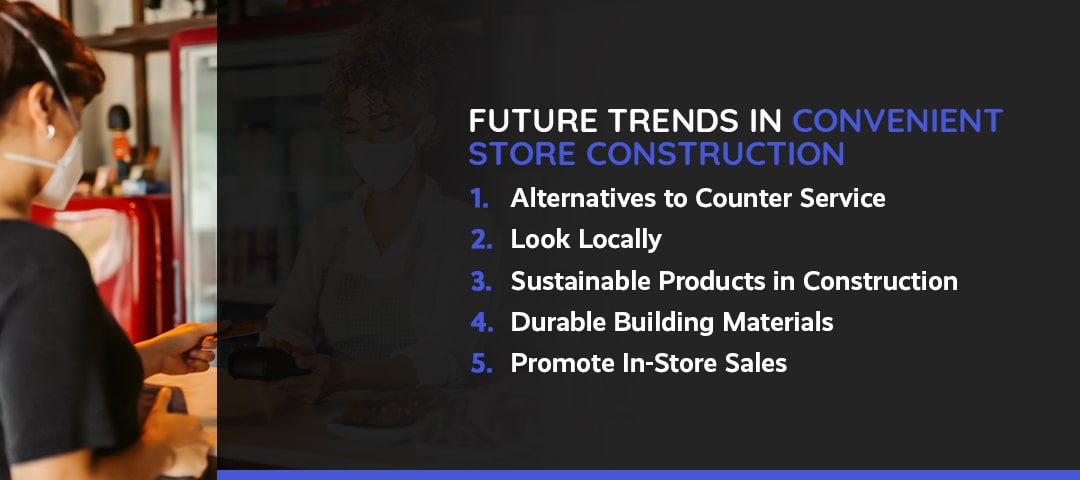 Future Trends in Convenient Store Construction 
While having an accessible design is essential for meeting today's requirements, future convenience store trends also focus on inclusivity. The following are forward-looking design trends you can integrate into your c-store to future-proof it for years to come. 
1. Alternatives to Counter Service   
Grocery stores and pharmacies across the country have integrated self-checkout stations into their plans. These allow for one worker to oversee multiple people paying for their goods at a time, reducing lines and improving customer satisfaction. Self-checkout stations can speed the process of shopping and leaving, resulting in happier customers. 
To future-proof this design, ensure at least one accessible self-checkout station to meet the needs of those using wheelchairs or those of shorter stature. These accessible stations should give customers the option to alert the attendant for assistance if needed. 
If your c-store offers food or drinks, test a drive-through to see if it resonates with your customer base and location. Providing a drive-through may be a solution to serve those who do not want to leave their cars or have mobility issues making leaving their vehicles difficult. Promote the drive-through to get more customers to use it. 
2. Look Locally
Supporting local businesses by using locally made materials and selling products in the shop from local businesses is another trend in c-store operations and construction you can use today. Supporting local businesses is important for Americans, with many going out of their way to support local businesses. 
Show your local support with signage and space in the store for local products. Promoting local goods within your c-store and showing you used local companies and products for construction may help your business reach this demographic. 
3. Sustainable Products in Construction   
Sustainability in construction and products is another future trend for c-stores. This movement includes using renewable resources where possible, reducing single-use products and using reclaimed materials. When you promote your business by using sustainable construction materials, you show a future-thinking operation with an eye toward preserving the environment. 
4. Durable Building Materials  
Building materials should be investments in appearance and cost over time. For example, choosing a parking lot coating that hides oil stains or spills keeps the property looking well-kept. Inside, using durable flooring that may have a slightly higher upfront price will pay for itself in longevity and appearance. More durable materials look better for a longer time. You will extend the time before you need to make major improvements to your c-store, saving you money. 
5. Promote In-Store Sales 
Despite selling 80% of the fuel in the country to consumers, c-stores still need in-store sales to stay profitable. With fluctuating gas prices, focusing on increasing sales of in-store products will become especially important. Making the interior of the store more accessible for everyone can improve in-store sales, as can promotions, drive-throughs and widening product options. 
Increasing sales space inside the store can protect your c-store from future fuel price fluctuations by giving customers more reasons to come inside your store to shop. 
Hiring a Company with ADA and C-Store Construction Experience 
Construction for a c-store should go beyond the building phase. A full-service construction company that has both ADA compliant and c-store experience will work with you from the design phase through the finished product. Both remodeling and new construction should have this level of transparency to keep you informed throughout the process. 
When hiring a company with ADA and c-store construction experience to upgrade your existing store, you need to partner with someone who won't cut into operations. Our teams at Maintco Corp don't require downtime from your convenience store for tenant improvements (TI). You can stay open while we make the necessary upgrades to bring your building to ADA compliance. To keep your customers and employees happy during construction, you may consider offering courtesy discounts, communicating construction plans with workers and customers and choosing slower times for construction work. 
Upon completion of the project, a CASp inspection will determine whether your c-store meets accessibility requirements. A passing inspection report is a requirement for proving compliance with ADA requirements. At Maintco Corp, we have CASp inspectors on staff to provide inspections, file reports and offer guidance to our design and building teams. These on-staff inspectors help us to provide robust construction services for your new or existing convenience store to meet all accessibility requirements.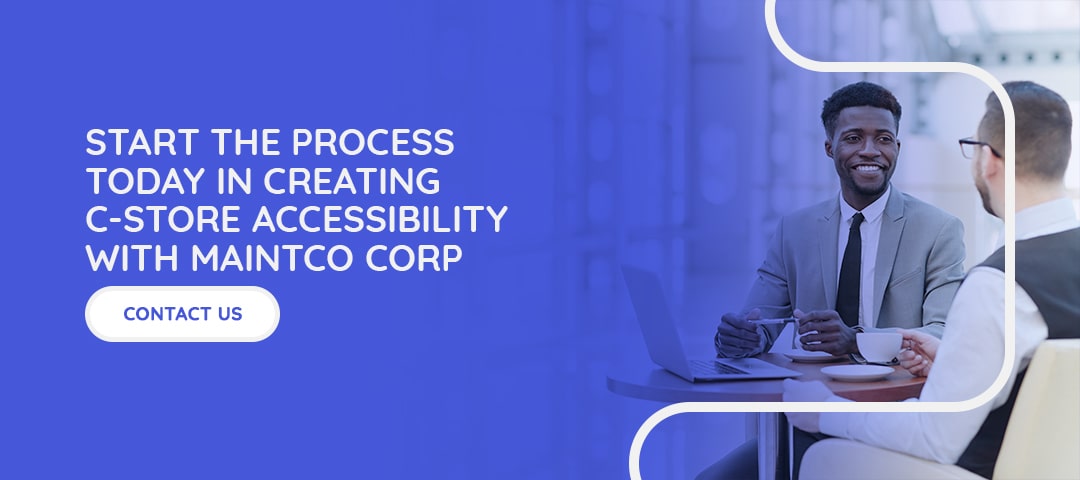 Start the Process Today in Creating C-Store Accessibility With Maintco Corp
Don't wait for a fine for failure to comply with ADA or California accessibility requirements in your existing or planned c-store. Our forward-looking teams at Maintco Corp design to future-protect your c-store for operations and continued compliance. By providing complete transparency throughout the construction process, on-site product management and competitive materials pricing, we save you money and get the job done as safely and quickly as possible.  
Start the process with us today to ensure your building meets state and national requirements.