How to Open a Convenience Store
Posted on: November 19, 2021 in Convenience Stores
Share:

Convenience stores come in various sizes and offer a wide variety of snacks, drinks, vehicle fuel, supplies and other goods for customers' convenience. These stores offer busy customers a quick place to grab a few things without visiting a large grocery store. The goal is to make the experience as convenient and easy as possible for the customers. Convenience stores are a popular industry because people enjoy hassle-free access to what they need.
If you're wondering how to start a convenience store, check out this guide to begin learning.
Table of Contents
How Much Does It Cost to Open a Convenience Store?
Your first step before opening any kind of business should be researching. Consider several questions, one of the most important being the cost of opening a convenience store. Before embarking on this journey, you'll need to determine if you can realistically afford this, how you'll pay for it and what the costs are. 
Opening a convenience store may have expenses you wouldn't normally consider, including:
Deposits, rent or the cost of buying a space.
Repairs or maintenance on your store.
Your initial inventory and restocking costs.
Machinery, equipment and technology.
One of the biggest costs of a convenience store is the inventory, which involves keeping your shelves consistently stocked with goods your customers want to purchase. Many convenience stores also sell lottery tickets and gas — both of which bring in revenue, although they'll add to your startup and upkeep costs. You should expect to pay around $50,000 to start your convenience store, though some people end up paying more or less depending on several factors, including location and inventory. 
Building New vs. Buying Existing
When it comes to the space you start your convenience store in, you have a couple of options. You may decide to either build an entirely new space or buy an existing convenience store and make it your own. Each route has its pros and considerations that may help form your decision between the two — consider both options before ruling one out. 
Building a New Convenience Store
When you build a new convenience store and start your business from scratch, you have complete control over every aspect of the store. For example, you can choose the location, which is important for vehicle and foot traffic. Selecting your location enables you to pick an area convenient for customers to access.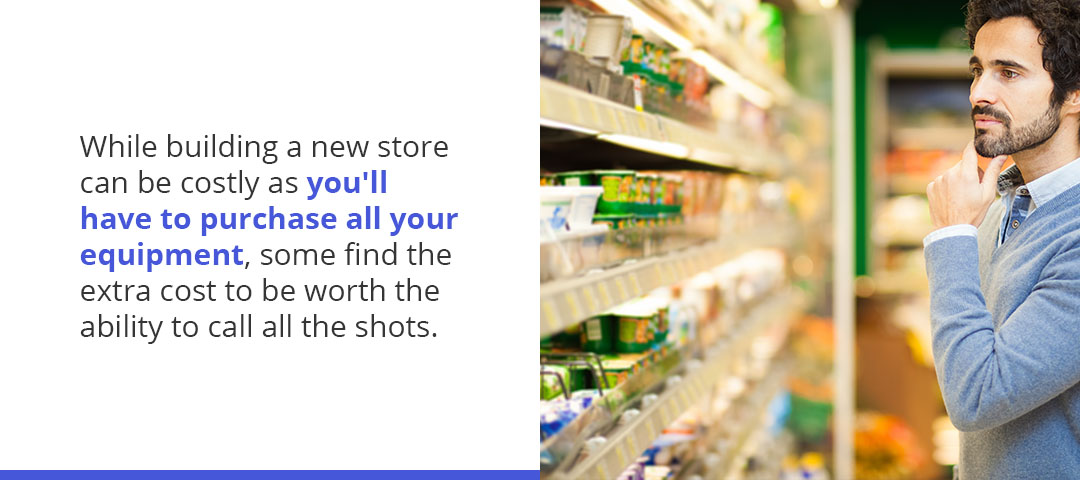 With a brand new store, you also have control over what products and vendors you'll offer to customers. You can make decisions about what your consumers can purchase and how much you'll charge them for it. Additionally, you can decorate and design the store's layout and how the goods are arranged on the shelves. While building a new convenience store can be costly as you'll have to purchase all your equipment, some individuals may find the extra cost to be worth the ability to call all the shots.
Buying an Existing Convenience Store
Buying an existing convenience store can be… convenient! Purchasing a pre-existing store means someone else already did most of the hard work. In many cases, an existing store will already have a customer base, equipment, products, necessary licenses and permits, employees and more. Some improvements you can expect to make would be covered under renovations for accessibility and/or energy efficiencies. 
However, before you buy an existing store, it's important to understand why it's for sale. If the owner is selling it because they're losing money or going out of business, you may want to think twice about the purchase. Look at every aspect of the store. Is everything up to date? Consider the customer demographic. What kind of products is the store selling, and do its current offerings appeal to its target demographic? Is the store currently profitable? How many vendors are there, and what are their contract terms? 
As you learn more about the store as it is, you can determine if it's a good fit for you and whether you'll be successful with it. 
Getting a Loan
As you explore your options and the costs of each, you may decide to cover the starting costs with a loan. Convenience store business loans are a helpful option for ensuring your store gets a good start. Business loans can help with numerous things when running a company, including:
Getting a space: A convenience store loan can help you pay for construction costs if you're starting from scratch or help you put down deposits and pay for rent. If you need assistance covering the funds to buy or rent a space for your store, a business loan can get you started. 
Purchasing inventory: The cost of purchasing a large inventory can add up quickly. With a loan, you can confidently purchase the goods you need to fill your shelves and restock as necessary. A loan may also enable you to buy some products in bulk, so you can stock up ahead of time and be prepared when you run out.
Paying expenses: As with any other type of business, convenience stores have everyday expenses. After your initial startup, these expenses may put some stress on your bank account. A business loan can help you with recurring costs like rent, payroll, utilities and taxes. Pay your bills using your loan until you're making enough profits to cover them yourself.
Decorating and making repairs and updates: Whether you started a store from scratch or bought an existing one, your convenience store may require maintenance or other facility services. You may also want to update equipment or create a new look for the space. These updates can get expensive depending on the situation. Ensure you have the necessary funds to make improvements and repairs as you see fit.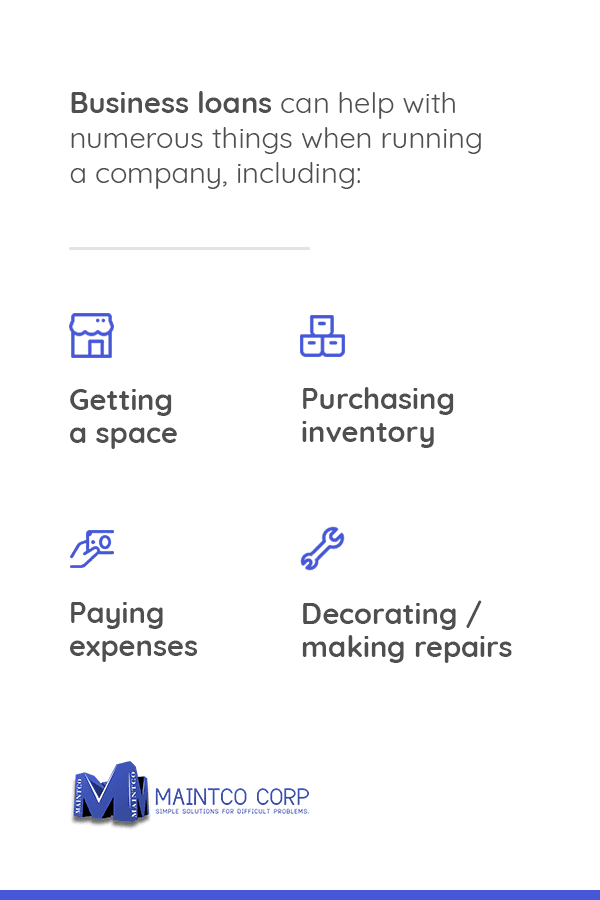 How to Get a Loan to Buy a Convenience Store
Before getting a loan, it's best to have all your ducks in a row. It pays off to have good credit as it gives you more options, but there are still opportunities for those who may still be working on their credit score. When asking for money, know how much you'll need. You should also be prepared to share with the bank what you intend to use the money for. Remember to consider interest rates and what you can afford to pay back. 
Next, look at your loan options. There are typically many financing options available because convenience stores are much like small businesses. One of the best choices is a Small Business Administration (SBA) loan. The SBA partners with banks to provide loans to small businesses looking for funding. The interest rates of SBA loans are often lower than other options, with higher borrowing amounts and longer repayment times. 
Because the competition for SBA loans is high, they can be challenging to acquire. A good second opportunity for convenience store owners is a term loan. Term loans are what typically come to mind when you think of a bank loan. You can get money relatively quickly once you're approved, though repayment periods tend to be on the shorter side and interest rates on the higher end. Despite this, term loans are a realistic choice for most businesses.
If you're looking for ways to pay for equipment like coffee makers, a walk-in freezer or cash registers, equipment financing is a great option. Equipment financing is a bit different from the other alternatives in that the lender gives you money to buy a specific piece of equipment and you pay it back. If you fail to pay the money back on time, the lender can take the equipment and sell it to make the money back. 
Is a Convenience Store a Good Investment?
While startup costs are generally a bit high, most convenient stores tend to be profitable. At the end of 2020, there were over 150,000 convenience stores across the United States. The convenience store industry is continuing to grow each year, making it a promising investment. However, some factors can make one store a better investment than another. To ensure you're investing in a profitable facility, consider some of the following elements of successful convenience stores:
Location: Location is everything when it comes to having a profitable convenience store. Choose a location that receives a lot of foot and vehicle traffic. Your chances of making sales increase as more people either drive or walk past your store. You should also consider your store's location in relation to your competition and populated areas within your region.
Fuel options: Fuel options for drivers are desirable elements of successful convenience stores. Nearly 80% of convenience stores in the U.S. offer motor fuel. Selling gas at your store is a big investment, but it can quickly pay off. For many convenience store owners, fuel transactions are often a primary source of profit. 
Tobacco and alcohol: It's common for convenience stores to sell tobacco and alcohol. While stores are required to obtain the proper licensing and permits for these sales, doing so can be profitable. These sales can account for a significant amount of a store's revenue. For example, cigarettes and tobacco products make up over 35% of all in-store sales in the convenience industry. Similarly, alcoholic beverages have accounted for 20% of past-year sales for convenience stores associated with National Retail Solutions.
Ultimately, convenience stores can be a great investment. However, keep the above factors in mind and use discretion when buying or building a convenience store. Some stores simply aren't as profitable as others and might not benefit you as much. When investing in a store, look for signs of profitability or potential areas for improved margins under your new ownership. 
Choosing a Contractor or Construction Company
Once you find a good location, what else will you need to open a convenience store? One of the first things most new store owners need is a construction company. Whether you're building new or converting an existing store into your own, you should find a quality contractor or construction company to help prepare your facility for customers. Choosing your construction company is a big deal, as they will be responsible for getting your space ready on time. 

Before hiring a construction company, consider these key points:
Do your research: Doing your research allows you to find all your options. Look at several construction companies, ask them questions and figure out who is available for your project. Considering all your options allows you to find the best fit for your convenience store project. 
Look for experience: The results of your finished store will depend on the experience of the company you hire. If you hire an amateur business, you'll get a mediocre finished product. A good benchmark to look for is at least a decade of industry experience. More expertise indicates the company has handled various jobs and situations and has the skill level to provide quality work.
Ask for referrals: While experience is important, it's only one of several things you should base your choice on. You're looking for a company that can provide high-quality work, and the best way to determine this is to ask for referrals, read reviews and look at past projects. If you can, talk to someone who has used this company before. Find out what their experience was like and if they'd recommend the business. Word-of-mouth information can give you great insight into how a company works with its clients.
Build a relationship: Your convenience store construction or renovation project should be taken seriously, and you want to work with a company that will prioritize your business and deliver on-time results. It's best to meet with contractors from the company to get a feel for how they communicate and how reliable they are. Having a trusting relationship with the contractors makes the process more pleasant. 
Find services to fit your needs: While it may seem obvious, be sure you choose a construction company that offers services fitting your needs. For example, you'll need to hire a commercial construction business instead of a residential one. If you're converting an existing space into a convenience store, ensure the construction company can make it suitable for your needs. This stage is also where exploring their past projects becomes highly useful.
You might also look for a construction company that offers more than construction services. Facility services are equally necessary to get your business up and running, and you can save significant time and possibly money by having one company do it all. Plumbing, HVAC, electrical, equipment maintenance and more are valuable capabilities to look for.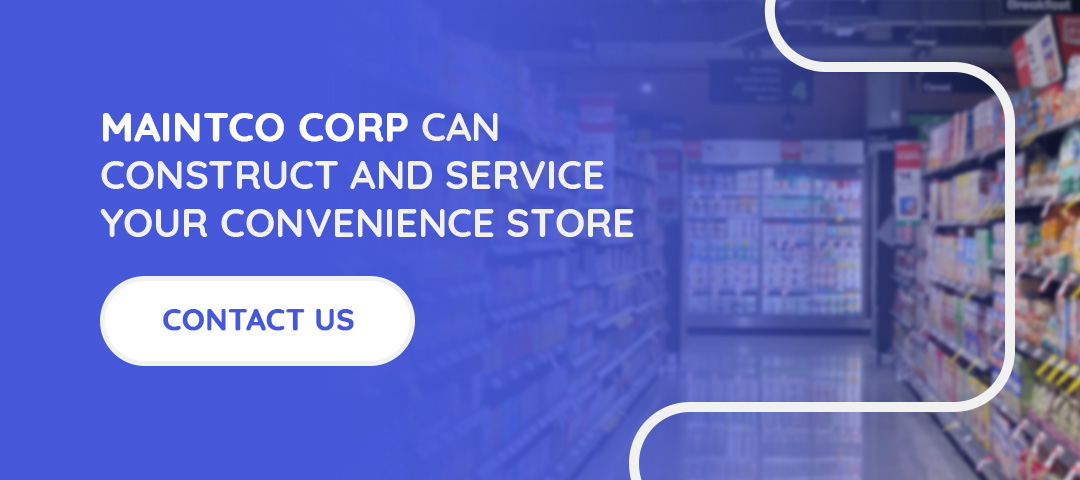 Maintco Corp Can Construct and Service Your Convenience Store
Convenience stores require quick and reliable construction services so that they remain unaffected by downtime. Maintco Corp is an experienced full-service construction company with expertise in the convenience store industry. If you're opening a new convenience store, we can help with the entire design-build process. If you're already running a convenience store and it needs servicing, our Tenant Improvement initiative allows our team to provide updates without disrupting your daily operations.
To learn more about our fast and affordable construction services, contact our team today or give us a call at 818-276-6300!