The Difference Between Residential and Commercial Construction
Posted on: March 31, 2023 in Uncategorized
Share:
Construction projects can vary significantly according to type. Building or remodeling a large-scale, industrial building for commercial use differs significantly from building or renovating a house. 
So, what is the difference between commercial and residential construction? Let's start by defining each. 
What Are Commercial and Residential Construction?
Commercial properties are those in which business or industrial activities take place. Examples of commercial structures include the following:
Hospitals
Office buildings 
Retail space 
Storage units 
Warehouses 
Industrial complexes
Commercial buildings usually belong to businesses and are located in commercially-zoned corridors or industrial sites. Commercial construction includes both ground-up building projects and renovations to existing commercial structures. 
Residential properties are buildings that people live in. These include single-family homes or small apartment buildings with a few units. Residential properties usually belong to one person or a family and are located in areas specially zoned for housing. Residential construction includes both new builds and existing building remodels and renovations. 
Seven Ways Commercial and Residential Construction Differ
We've selected the seven key ways that commercial and residential construction differ. Read on to learn the specifics of each. 
1. Building Materials
Residential construction materials are significantly different from those you'll find in commercial construction. 
Builders typically use wood to construct residential buildings because it's cost-effective and structurally suitable for housing. On the other hand, architect-designed commercial buildings are typically large and complex, requiring heavy-duty materials. Sturdy, resilient and long-lasting materials like steel and cement are popular for commercial construction. 
Even when commercial and residential construction materials overlap, they differ in use and quantity. For example, residential projects may only require a small amount of glass for windows, while commercial projects may include architectural elements like large glass facades. 
2. Equipment
Just as building materials differ in commercial versus residential construction, so does the equipment that crews use to complete the project. 
Commercial structures usually involve sites many acres larger than their residential counterparts and require specialized heavy equipment. Cranes, lifts, loaders, pavers and earth-moving machines are customary in commercial construction. This equipment is so advanced that only trained professionals should operate it to ensure worksite safety. 
Alternatively, residential projects tend to involve smaller buildings and smaller, simpler equipment.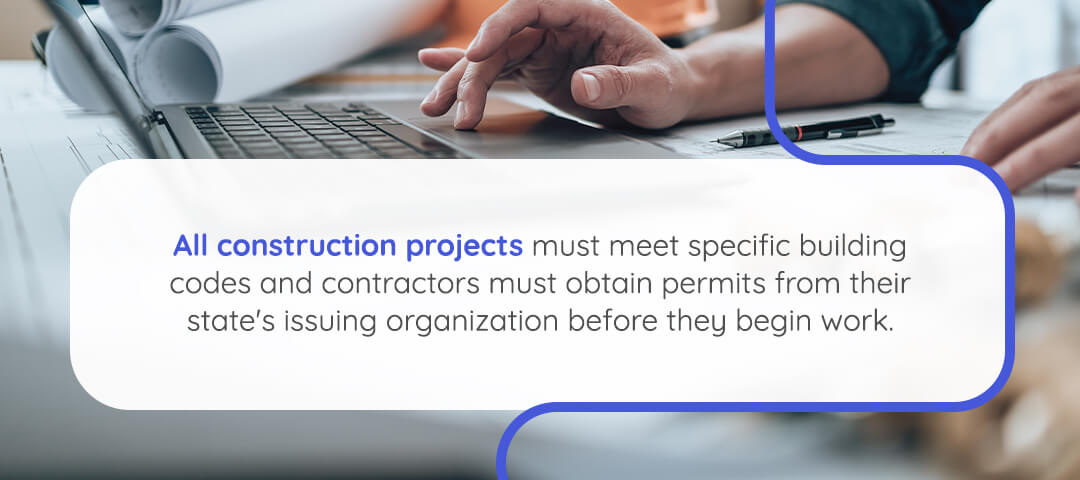 3. Codes and Permits
All construction projects must meet specific building codes and contractors must obtain permits from their state's issuing organization before they begin work. Regulations and permits exist to ensure project safety during the construction phase and afterward when people use the building. 
Because a commercial building's safety concerns differ from a residential building's, contractors must adhere to different codes for commercial and residential properties. 
Commercial buildings are typically much larger than residential ones. Their size makes them inherently more dangerous to construct, especially if contractors use heavy machinery. Commercial building projects have standards for operator safety during construction. They must also follow safety codes for various areas, including elevators, handicap accessibility, parking lots and garages.
Commercial codes and permits are complex and require knowledgeable, experienced professionals to ensure compliance. Residential building codes and permits are usually simpler and easier to comply with. 
4. Location
Location is important in both commercial and residential projects. However, a suitable and appropriate site for a commercial building will differ from those for residential buildings:
Commercial properties should be close to roads and centrally located where many people can access them. Residential construction can take place in quieter, more secluded areas more conducive to living.  
When contractors build or remodel homes in neighborhoods, they must take care to avoid disturbing neighbors. They also have more stringent working hours because working early in the morning or late at night can generate noise complaints.
Commercial projects in industrial zones typically incur lengthy environmental reviews and site selection processes. Before work begins, contractors must grade the site and put utilities in place. For projects in less densely populated locations, contractors may work earlier and later than regular business hours, sometimes even around the clock. 
5. Project Costs
Commercial projects incur much greater costs than residential projects for several reasons, including the following:
Location: Acquiring commercial land close to established roads and urban infrastructure is more expensive than acquiring residential land in a city's rural outskirts. 
Compliance: Building permits for large-scale properties are much more complex and stringent than residential properties and therefore cost more. 
Materials: The materials suitable for commercial structures, like steel, concrete and industrial-grade tools and accessories, are much more expensive than those for residential projects. 
Equipment: Commercial projects typically involve renting or buying specialized heavy-duty equipment and securing trained operators.  
Labor: Commercial projects require many more workers than residential projects, leading to higher labor costs.  
6. Project Completion Times
Contractors generally complete commercial projects much faster than residential projects. One reason is that commercial projects are more urgent. Commercial investors need crews to complete projects quickly so they can start generating revenue. Likewise, project owners know that the faster their facility is ready, the fewer labor costs they'll incur. 
While residential projects are less complicated for contractors, they often move slower as homeowners take time to rethink their selections and decisions. Funding can also influence project completion rate, as homeowners typically pay for the project themselves or with the help of a bank loan. If this funding isn't adequate, the project may stall until additional funds come through. 
Budgets for commercial ventures are usually set and determined well before the project gets underway, so they rarely stall due to money concerns.  
7. Customizability
Property owners can customize a residential project much more than a commercial one. Homeowners have creative freedom with their layout, but commercial buildings must ensure every detail adheres to set standards and guidelines. 
Commercial ventures are stricter concerning design or plan changes because these can delay project completion. Changes are more acceptable in residential projects and sometimes even expected. Without tight deadlines to meet, residential contractors can implement the changes with little to no issue.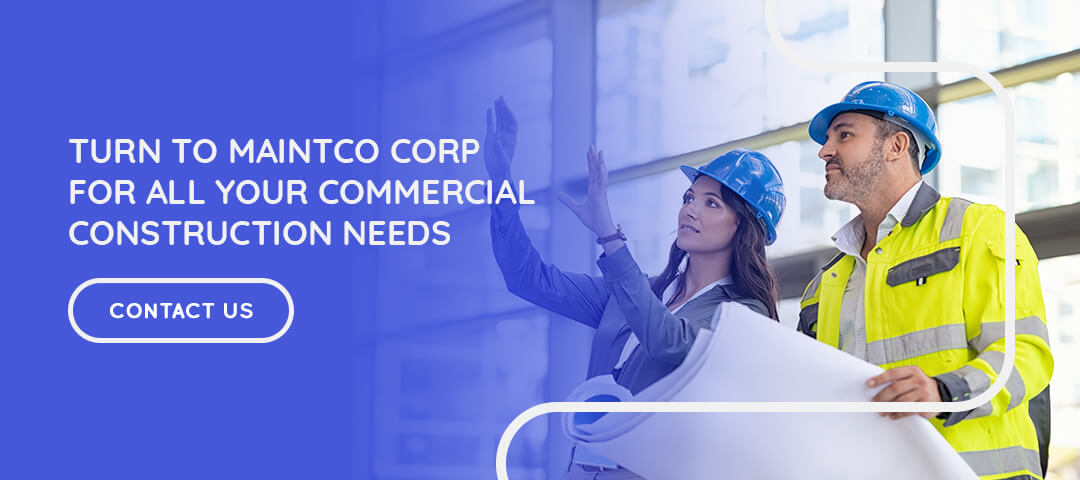 Turn to Maintco Corp for All Your Commercial Construction Needs
Maintco Corp is a full-service, licensed general contractor serving California and its neighboring states. In addition to construction, we offer a variety of services to customers across industries, including project management, maintenance programs and facility services.
Whatever your needs, you can count on the experts at Maintco Corp to bring knowledge, professionalism and efficiency to your project. Reach out to us today to learn more about how we can handle your commercial project.