What Is a Certified Access Specialist (CASp)?
Posted on: December 10, 2021 in ADA Compliance
Share:
Roughly one in four U.S. adults have a disability. To accommodate and include people with disabilities, the Americans with Disabilities Act (ADA) requires that businesses ensure that their sites provide an equal opportunity for everyone to access and benefit from their services. Making your business more accessible can ensure ADA compliance and promote a more inclusive business operation.
How do businesses identify the best ways to improve their premises to make them more accessible? A Certified Access Specialist (CASp) is a licensed professional trained in accessibility standards. Businesses can hire CASps to inspect the premises, evaluate their level of compliance and identify non-compliance with specific building codes. This guide to CASp inspections will help businesses like yours know what to expect during a CASp survey and how CASp inspections can benefit businesses financially and socially.
Table of Contents
What Is a CASp?
A CASp, or Certified Access Specialist, is a professional who has been certified by the State of California to provide services to assess the accessibility levels of a business's physical property. 
In 2008, California legislators passed Senate Bill 1608. This amendment to Section 5600 of California's Business and Professions Code ensures equal access rights to persons with disabilities while protecting proactive businesses from predatory lawsuits. As a result of this bill, businesses with physical properties accessible by the public can alter, upgrade or adjust their accessibility aids to make it easier for people with wheelchairs or other mobility impairments to access the building by hiring certified professionals to assist them with these alterations.
As a result of this legislation, the state created a certification program overseen by the Division of the State Architect that would train and certify professionals to help businesses bring their properties up to code and stay in compliance with the new regulations. 
The goal of creating the CASp certification program was to give businesses a way to reduce unwarranted litigation by providing them with specialists who can help business owners improve their property's accessibility in meaningful ways that advance the goal of equal access while taking the best interests of the business into account.
The State of California provides training, examination and certification to individuals who want to become Certified Accessibility Specialists. CASps are knowledgeable in California state laws and regulations and offer their expertise to businesses to understand what is necessary to stay compliant with the legislation. 
A CASp-certified inspector inspects properties, assesses their accessibility levels and completes reports that they submit to the government to prove proactivity on behalf of the business. The CASp alerts business owners to accessibility concerns and provides information on the specific Title 24 building codes that are non-compliant.
Under the Americans with Disabilities Act of 1990, persons with disabilities have the right to file federal lawsuits against businesses for discrimination or safety concerns if they are unable to access their properties. Businesses that proactively undergo inspections by CASps qualify for "qualified defendant" status, which protects them from liability by demonstrating that they are taking their due diligence seriously. This measure can save businesses extensive amounts in fines and attorneys fees as well as their time and other resources.
What Is an ADA CASp Inspection?
One of the major roles of a CASp inspector is to inspect a property. A business or property owner can initiate a CASp inspection by contacting a CASp expert and requesting that they visit their site. The owner can begin a CASp inspection voluntarily as a measure of due diligence, or it can be triggered by a legal summons if a business is found to be in violation of the accessibility code.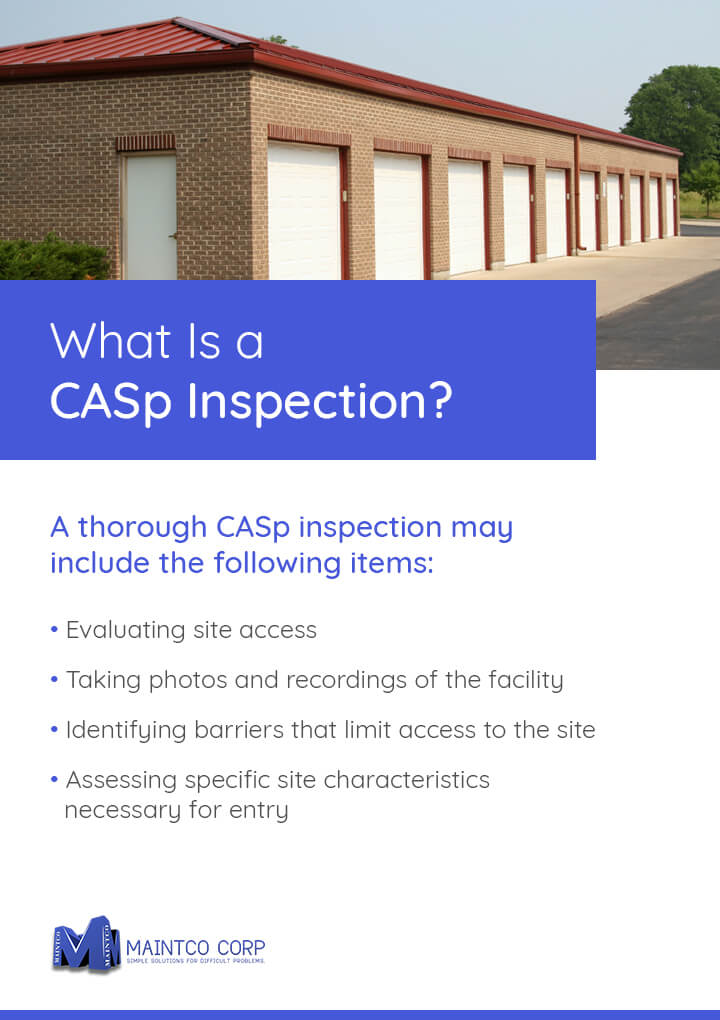 The disability compliance service will dispatch a CASp inspector to commence the inspection. The property owner will need to work with the CASp inspection company to provide details about the building, such as when it was built, a historical record of any upgrades or improvements and a general description of the area.
During an inspection, a CASp certified inspector will follow a methodical procedure to survey and assess a site according to applicable building codes. A CASp will take photos of the site, identifying and noting particular construction details about the premises. Each accessibility point will be recorded, and information on the access levels will be described.
A thorough CASp inspection may include the following items:
Evaluating site access, including identifying nearby transit stops from the public walkways
Taking photos and recordings of the facility from the site's entry point to further areas of inspection
Identifying barriers that limit access to the site, such as gates, stairs or a lack of paved walkways
Assessing specific site characteristics necessary for entry, including measurements and dimensions
CASp inspections differ from site to site, depending on the nature of the facility. For example, cases that involve multiple storefronts or offices have more complex accessibility requirements than a standalone facility. For this reason, how long a CASp inspection takes to complete will vary widely from case to case. In all instances, the inspector will be enforcing Title 24 building code.
After the professional has completed their inspection, they will compile a CASp report.
Understanding a CASp Report
Submitting a CASp inspection report is a necessary step in compliance. Business owners need to provide proof that they have undergone measures to improve their ada compliance with accessibility codes, and a CASp inspection is part of that evidence.
A CASp report is a written document detailing the description of the survey and the professional's findings. Based on the results of the inspection, a CASp report gives your business one of two statuses:
CASp-inspected 一 The site has met all the necessary construction-related accessibility requirements.
CASp determination pending 一  The site is still pending a determination by the CASp regarding the property's accessibility levels.
In the report, the CASp expert will outline and summarize the non-compliant aspects of the site. Based on those details, the owner will need to provide a construction plan or timeline for fulfilling these non-compliant elements and attach their plan to the report. Sending a construction plan to accompany the official CASp report is a requirement for businesses looking to take advantage of the benefits afforded by SB 1608, particularly legal protection from new or potential lawsuits. 
To demonstrate that the business has undergone a CASp inspection, owners can receive a CASp certification or  "Certificate of Inspection" sticker to put in their window to communicate that the business has completed a CASp report for ADA compliance.
A CASp certified inspector is dedicated to informing businesses about how their properties can improve compliance and why these accommodations are required. Business owners are experts in their industries and often lack specialized knowledge about accessibility needs. Therefore, it's understandable that business owners won't always understand the rationale as to why certain improvements are recommended. This niche expert is the vital role that the CASp plays, especially during the reporting stage.
In a CASp report, the professional will explain the recommended improvements and articulate how they can benefit their customers. CASp professionals are also available to educate business owners on accessibility concerns by comparing pre- and post-improvement conditions and how they impact people with disabilities.
Learn If Your Building Meets Requirements Today!
What Are the CASp Criterias Defined by the ADA?
When business owners hire a CASp inspection company in California to complete an official inspection and file a report, they may wonder what CASp requirements they need to meet. CASp criteria are defined by the ADA, which sets the standards for accessibility across the nation. The ADA provides information to businesses on what kinds of accommodations and modifications they can make to improve accessibility for customers and patrons with disabilities.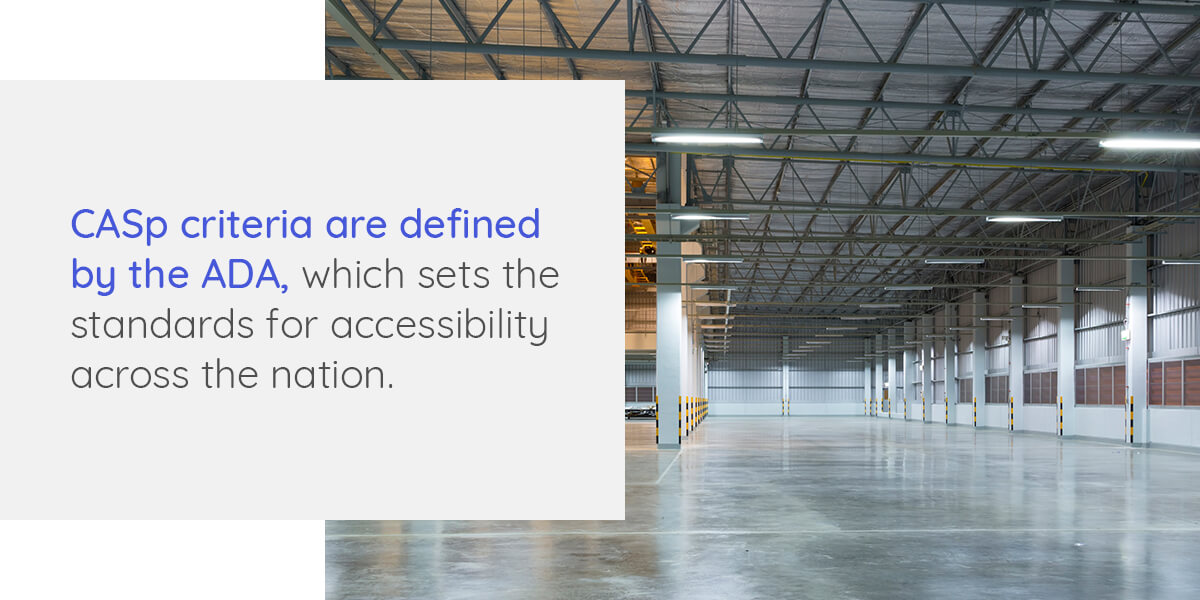 The following is a guideline on how to distinguish between accommodations and modifications:
Accommodations: An accommodation occurs when a business or property manager changes or adjusts a rule, policy or service offering or makes an exception to these. Accommodations give persons with disabilities an equal opportunity to use, enjoy and participate in the services offered on the site.
Modifications: A modification is a physical, structural change made to the premises so that persons with disabilities can use the site. Modifications involve construction projects, including remodeling or renovating existing structures both to the exterior and the interior of the site.
The ADA outlines examples of modifications businesses can make to their property to ensure accessibility compliance. These modifications and accommodations fall under a few categories, including:
Entrances, such as curbs and ramps
Traffic routes, such as corridors and hallways
Facilities, such as payphones, drinking fountains and restrooms
Additional elements, such as alarms and signage
There are several examples from the ADA, but below are a few of the accessibility modifications and accommodations they suggest:
Installing ramps and creating designated parking stalls
Making depressed curbs, also known as curb cuts, on sidewalks and entrances 
Moving shelves, tables, chairs, vending machines or other structures to widen hallways
Lowering telephones to an appropriate height for people in wheelchairs
Installing bars in toilet stalls and lowering paper towel dispensers
CASp inspectors give the site a score for each accessibility element. The score ranges from fully compliant to non-compliant. For each non-compliant part, the CASp inspector will provide comments on how the site is under-compliant.
CASp inspectors can also determine whether certain construction upgrades will cause undue financial hardship to businesses. If the cost of compliance exceeds the current valuation threshold, the CASp can request an exception be granted to the business and not require full compliance on certain upgrades. These exceptions are determined on a case-by-case basis.
Let Maintco Help You Meet Compliance Requirements
Why Should Your LA Business Get a CASp Inspection?
After your business undergoes an inspection, your CASp certification ensures ADA compliance. There are many reasons businesses want to bring their sites into compliance with ADA standards. The main motivation is the mitigation of financial losses, but there are other secondary benefits as well.
Businesses that make their premises more accessible also benefit from an increase in traffic and potential customers. A CASp inspection is a smart business move that can save you money and help your business grow. Below are the top reasons for businesses to get a CASp inspection.
Get Your Business CASp Inspected with Maintco
Increase Customer Base
Undergoing a CASp inspection can be a strategic business move for entrepreneurs and business owners. For owners to drive sustainable growth and scale their businesses, they need to bring in a continuous supply of new customers. Business owners should examine their current operations and uncover barriers to attracting new customers. Accessibility is a barrier that many people overlook, but it could be limiting your customer base.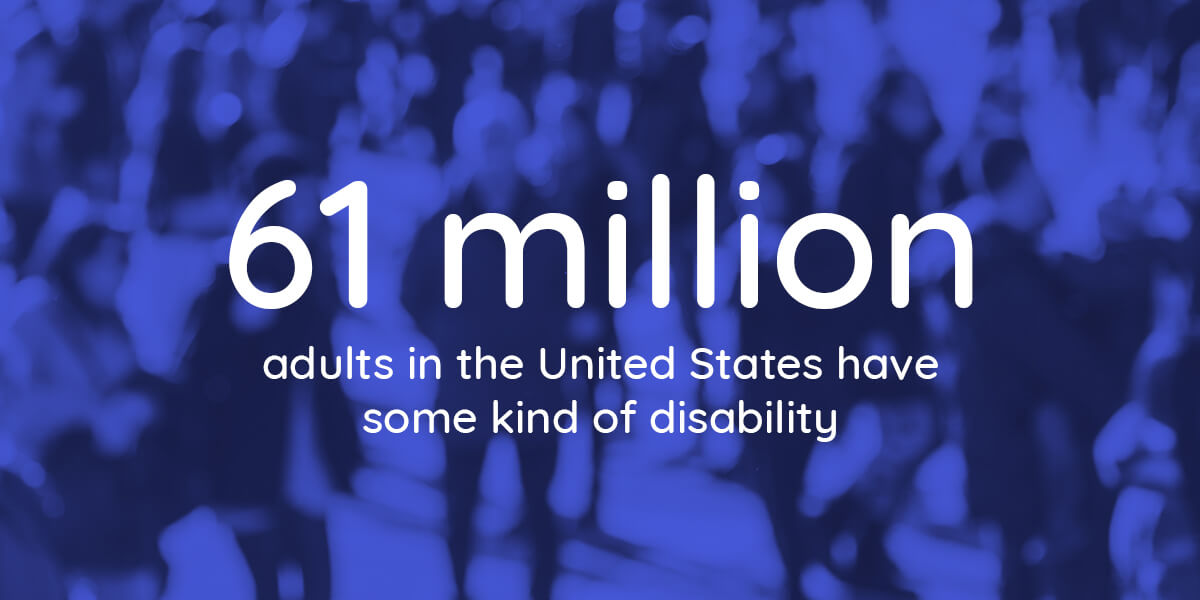 According to the CDC, 61 million adults in the United States have some kind of disability — that's over one-quarter of the adult population. By making your premises more accessible, you can open your business up to a new segment of the population that can become loyal customers.
Avoid Liability
Another important reason to choose to work with a CASp professional is to mitigate liability and the financial costs associated with it. Many law firms specialize in ADA lawsuits, meaning they actively seek out plaintiffs who get turned away from businesses due to limited access. Many businesses are vulnerable to these types of lawsuits, which can cost thousands of dollars in damages, attorneys' fees and expenses.
By undergoing a CASp inspection, you minimize your exposure to these types of lawsuits. While under a CASp inspection, your business is automatically granted legal protection by way of a 90-day stay on a lawsuit. This three-month grace period gives your business time to rectify any non-compliant elements in a timely manner, preventing attorneys' fees from accumulating during this time.
Correcting non-compliant elements of your premises also avoids future lawsuits that can come unexpectedly.
Get Expert Assistance
Many business owners want to do the right thing and make accommodations or modifications to their premises to encourage people with disabilities to visit their site. However, business owners aren't experts at accessibility best practices. Trying to make modifications may result in wasted efforts if they don't ultimately meet the ADA compliance standard.
Undergoing a CASp inspection takes the guesswork out of ADA compliance. A CASp is an expert at accessibility and the legal code. Their detailed inspections can help you make wise and strategic decisions that ensure your premises are brought up to compliance without wasting time, money or effort. A CASp can inform you of the most immediate and necessary improvements and help you identify ways to meet ADA standards.
Cost-Savings
One challenge businesses face when they commit to making accessibility improvements to their properties is that they tend to invest a great deal into design and construction to complete the upgrades. Often, businesses spend more money than they need to, and these improvements can become a financial burden.
By hiring a CASp specialist, business owners will make informed decisions for successful changes. If businesses make improvements without consulting an expert, they may need costly re-work. A CASp inspection is the best way to keep the total costs down and make a wiser investment in your business.
Choose Maintco Corp for CASp Certification Services
Bring your business into ADA compliance by undergoing an CASp inspection. Discover the CASp criteria and requirements that are necessary to bring your site into compliance and then seek out your CASp construction services all in one place!
Maintco Corp is one of California's leading construction and general contracting providers. As part of our comprehensive service offerings, Maintco Corp has CASp consultants on staff to conduct inspections, file reports and offer guidance and expertise to construction managers fulfilling ADA requirements. Learn more about Maintco Corp ADA compliance services, including CASp inspections. For more information, call us at 818-556-6401 or contact us online.