Guide to California ADA Counter Requirements
Posted on: January 31, 2022 in ADA Compliance
Share: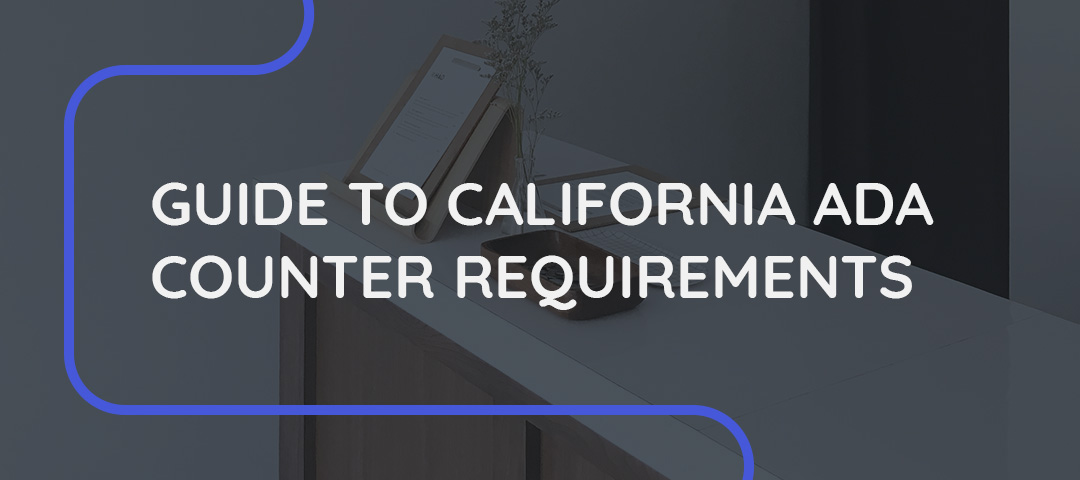 If your business is in California, it's crucial you adhere to ADA guidelines. All aspects of your facility, including any food service, reception or retail counters, should be ADA compliant to avoid both legal and reputational consequences.
Ensuring your facility is ADA compliant means your building will be more accessible to everyone. However, your company could also face serious legal consequences if it's not accessible to people with disabilities. 
Below, we'll discuss how you can make your building more inclusive with ADA-compliant counters, including how a Certified Access Specialist can help your business stay compliant.  
Table of Contents
What Is an ADA-Compliant Counter?
ADA counter height requirements dictate service counters must be under 36 inches high and less than 36 inches long. They also must have at least a clear 30 by 48-inch area in front of them for adequate wheelchair access. 
Different counter types have their own specifications, though. Here are some examples: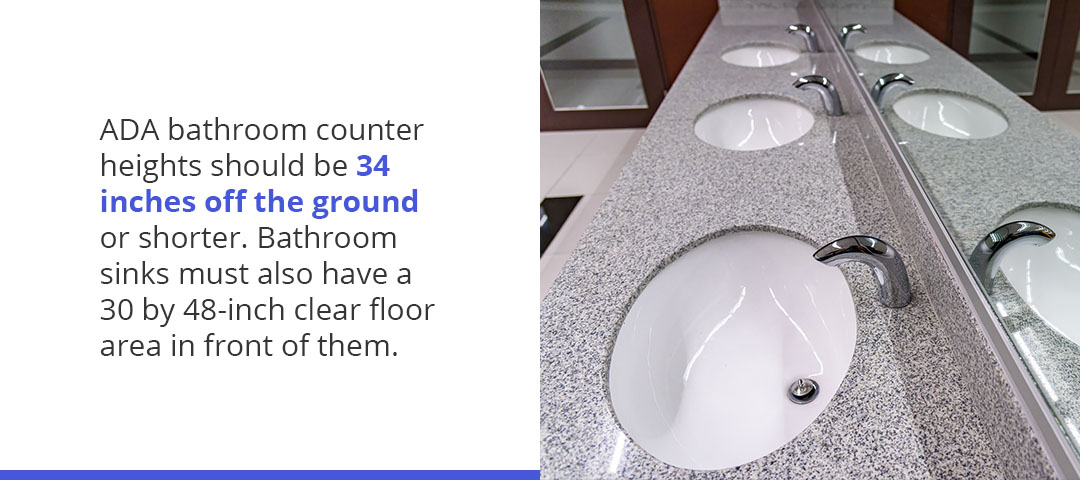 Dangers of Non-Compliant Counters
Under California law, ADA and California Building Code violations are civil rights violations. Currently, a non-ADA compliant counter in California can carry fines of up to $4,000 in addition to attorney fees. Beyond avoiding legal consequences, ADA-compliant counters will help ensure more people can access your building, increasing the potential for new and continued business.
Since the passing of the ADA in 1990, California has been one of three states with the most disability-related civil rights cases. The Unruh Civil Rights Act of 1959, which states all people are entitled to equal access to public facilities, is a significant reason why California accounts for a substantial number of ADA lawsuits. In fact, California accounted for 27% of all U.S. ADA filings in 2017. Ensuring your building is accessible to all can help your company avoid costly lawsuits.
Your business can also benefit from federal tax incentives for creating ADA-compliant buildings:
Disabled Access Credit: The Disabled Access Credit provides small businesses with a maximum credit of $5,000 to cover the expenses of making buildings accessible. A company is considered small if it had fewer than 30 full-time employees and earned less than $1 million during the previous year.
Architectural Barrier Removal Tax Deduction: The Barrier Removal Deduction allows businesses to claim up to $15,000 per year for costs associated with removing architectural and transportation barriers. 
Hiring a Certified Access Specialist
California Senate Bill 1680 is an amendment to Business and Professions Code Section 5600 that protects people with disabilities from discrimination and businesses from predatory lawsuits. One of the ways you can help ensure your building is accessible is by hiring a Certified Access Specialist (CASp), a professional trained by the Division of State Architect to inspect facilities for compliance with disability access standards. Businesses that opt for CASp inspections also gain qualified defendant status, saving them time, money and resources in the case of a lawsuit.
A CASp can help your business by taking the following steps:
During an inspection: A company can request a CASp inspection either to prevent ADA lawsuits or because of a legal complaint. During the inspection, a CASp will identify barriers to accessibility such as counters that are too high, gates, stairways and unpaved walkways. They also typically take photographs and recordings of a property.
After an inspection: A CASp will then notify businesses of any accessibility concerns and explain the specific Title 24 building codes the building violates. A CASp then creates a report for the federal government, explaining recommendations for accessibility improvements and how they'll benefit the public. The report will either certify a business as CASp-inspected or declare CASp determination pending. 
A business's responsibility: If a CASp determines a property is not accessible, a company will need to provide a construction plan or timeline alongside the report. The report should be kept in a safe location, as it's required to request a 90-day stay of the lawsuit, which temporarily pauses all litigation, and an Early Evaluation Conference, where parties can determine whether they can settle the case before taking it further.
After an inspection, businesses can request a window sign so customers know it's CASp-certified. When customers see a window sign confirming a business is certified by a professional, they'll know your company takes accessibility seriously. Plus, these businesses are less likely to be the target of a predatory lawsuit.
Building an ADA-Compliant Counter
When building an ADA-compliant counter, you can contact a construction and ADA consulting firm. Maintco Corp. offers construction and project management services and Certified Access Specialist (CASp) inspections to prevent costly ADA violations. Maintco professionals can help install, refresh and remodel handrails and ramps, accessible signage and ADA-compliant counters.
A professional ADA consulting firm can also help ensure all of your building is ADA accessible, including: 
ADA-accessible counters.
Accessible curbs and sidewalks.
ADA ramps.
Parking lots.
Accessible signage.
Access for people with wheelchairs and mobility devices.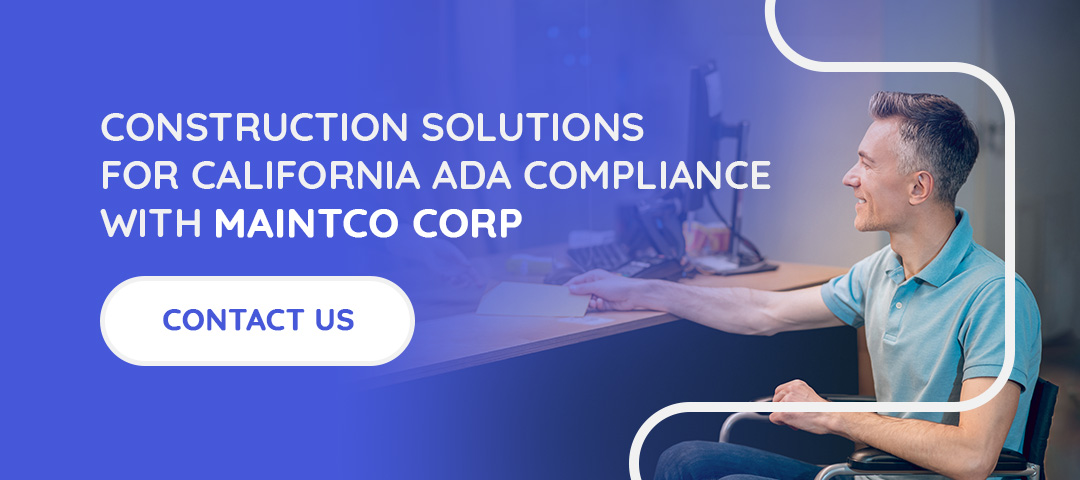 Construction Solutions for California ADA Compliance
At Maintco, we strive to build lasting relationships with our customers. For more than 25 years, we've offered construction, project management and maintenance services for California businesses. Whatever your needs, we can work with you to ensure your company's buildings are ADA-compliant. Contact us today to discover how our professionals can help ensure your counters — and the rest of your building — are ADA-compliant.