Guide to ADA Compliance in California
Posted on: March 22, 2023 in ADA Compliance
Share:
The Americans with Disabilities Act (ADA) protects the rights of disabled people. A disabled person may be eligible to file a lawsuit and recover compensation if they contend with a building feature that isn't ADA-compliant. Any violation of the ADA in California is a civil rights violation and may be subject to a minimum statutory penalty. 
Your business should be ADA-compliant to stay protected against expensive lawsuits and penalties. This California ADA compliance checklist will help you understand what to do to meet ADA California requirements.
ADA Compliance in California
The first step to achieving ADA compliance in California is understanding California ADA laws. For businesses in the state, the ADA has established requirements for the following:
Ramp and walkway width requirements
Stair requirements
Handrail requirements
Parking lot requirements
Parking space requirements
Parking sign requirements
Restroom sign requirements
Restroom requirements
Under the ADA, a disability is a mental or physical impairment that significantly limits at least one major life activity. Everyone is entitled to equal and full accommodations, facilities, advantages, services or privileges in all business establishments, regardless of race, color, sex, religion, national origin, ancestry, medical condition or disability.
Violating the ADA is also a violation of state law. Frivolous lawsuits are filed as a result, so the following modifications have been put in place to provide some protection to business owners:
A plaintiff must have personally encountered an accessibility barrier before they may file a lawsuit.
A plaintiff can only file one claim, even if they encountered multiple accessibility barriers.
A certified access specialist can inspect and certify your property for additional protection.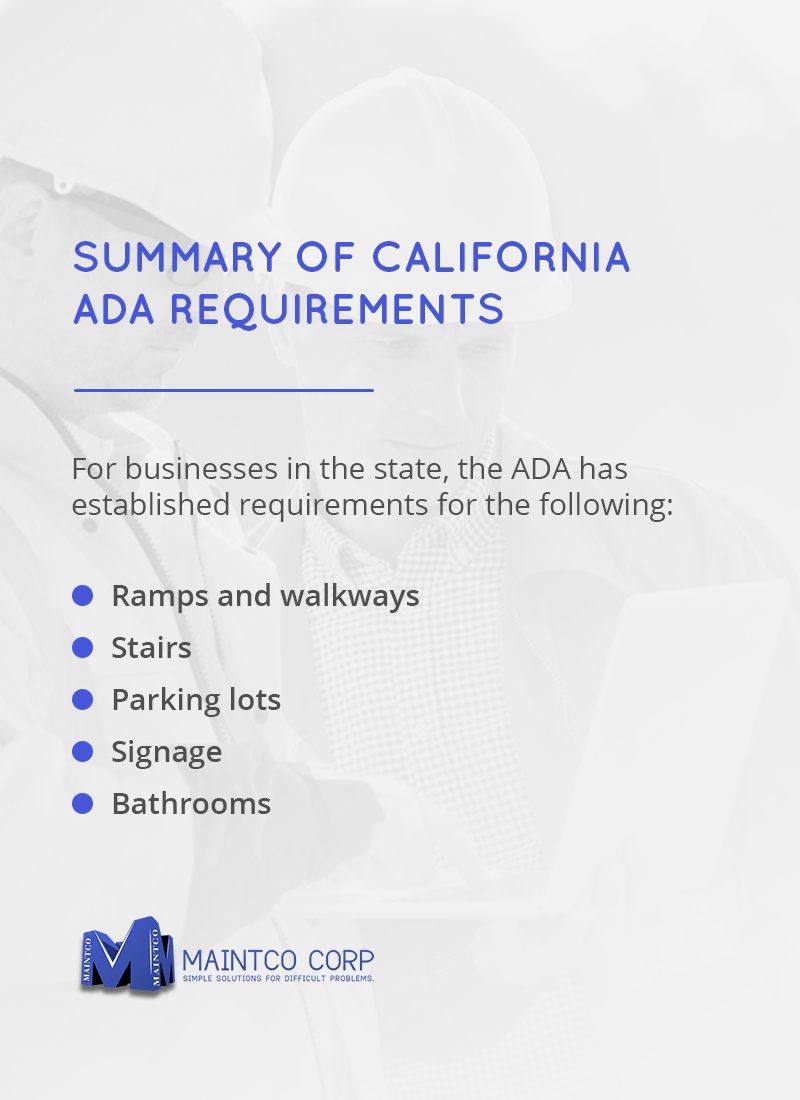 ADA Ramp Requirements in California
The ADA has set forth the following requirements for ramps in California:
Slope: Slopes for ramps that provide handicap access, are used as an exit or are in the path of travel must not exceed a 1-foot rise in 12 feet of horizontal run. The slope of existing ramps cannot exceed a 1-foot rise per 8 feet of horizontal run.
Width: Ramps must be at least 48 inches wide. Top and intermediate landings must be at least 60 inches wide.
Landings: If a ramp's slope ratio is more than one vertical to 15 horizontal, it should have landings at the bottom, top and intermediate level for every 5 feet of rise. Intermediate and top landings must have a ramp run dimension of no less than 5 feet. For a landing at the bottom of a ramp, the dimension of the ramp run should be no less than 6 feet.
Maintenance: Ramps should be well maintained and in good repair to meet ADA requirements.
Doors: A door should not decrease a landing's minimum dimension to less than 42 inches. A door should also not reduce the required landing width by more than 3 1/2 inches when fully open.
Surfaces: Ramp surfaces should be roughened or made from nonslip materials.
Rails: Ramps with a slope ratio above one vertical to 15 horizontal should have handrails on either side. Intermediate levels do not require handrails. Ramps that rise more than 30 inches above the ground or an adjacent floor must also have guardrails that continue from bottom to top.
ADA Stair Requirements in California
California ADA regulations specify rules for stairs' nosings, risers and treads. The essential stair requirements are as follows:
Nosings: A nosing should project no further than 1 ½ inches. The underside of a nosing should be angled no less than 60 degrees from the horizontal. The radius of the curve on the tread's leading edge should be no more than ½ inch. 
Risers and treads: All steps should have uniform tread widths and riser heights. A stair tread should be at least 11 inches wide from riser to riser. Risers must be sloped and flush, with stair treads at least 11 inches deep.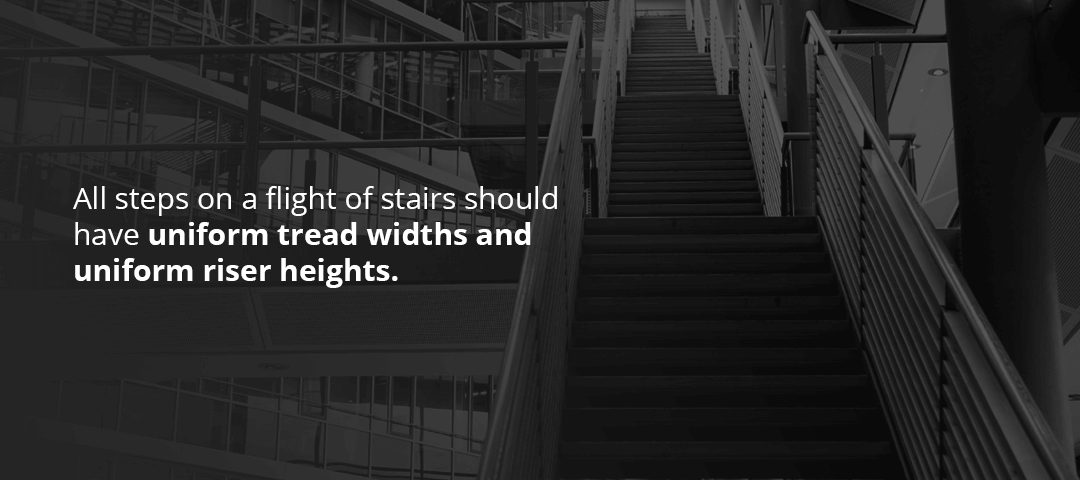 ADA Handrail Requirements in California
Handrails should be placed on both sides of a staircase. The following handrail features are ADA-compliant:
There should be at least 1 ½ inches of clear space between the wall and the handrail.
Handrails should run continuously on both sides of the staircase.
The gripping surface on top of the handrail should be mounted between 34 and 38 inches above the stair nosings.
Handrails should not rotate within their fittings.
The end of a handrail should be rounded or returned to the wall, floor or post.
If a handrail is not continuous, there must be a horizontal extension of at least 12 inches at the bottom and top of the run.  
At each top riser, a minimum horizontal extension of 12 inches is required. For each bottom riser, a minimum horizontal extension of 12 inches is required, along with the width of a tread. A handrail should continue sloping for a distance of a tread's width from the bottom riser. At the top, an extension should parallel the ground surface or floor.
ADA Parking Lot Requirements in California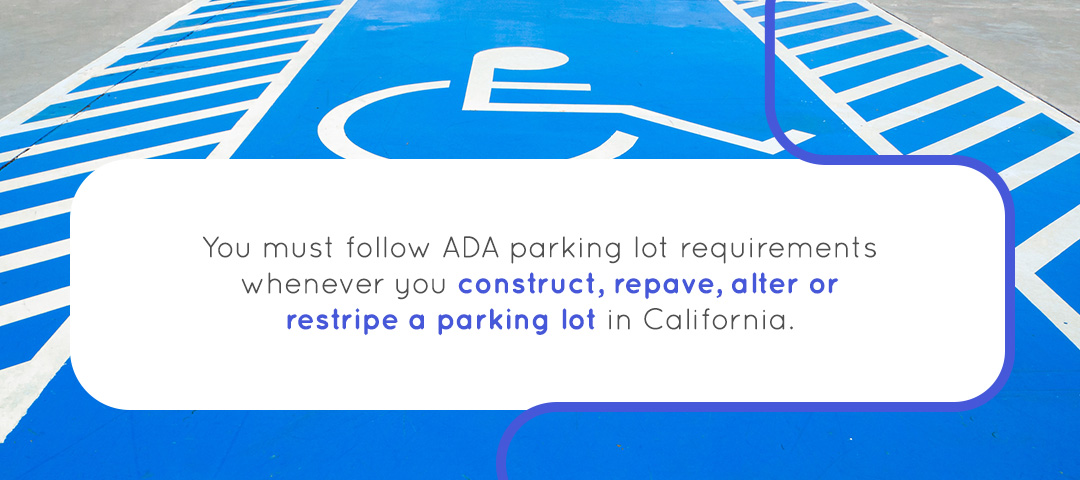 You must follow ADA parking lot requirements whenever you construct, repave, alter or restripe a parking lot in California. You must also provide the minimum number of properly marked handicapped spaces to ensure ADA compliance. Your building entrance and any obstacles between handicapped spaces must also be in compliance.
ADA Parking Space Requirements in California
State of California ADA compliance requires an accessible parking space to be at least 8 feet wide. The access aisle for an automobile-accessible space should be at least 5 feet wide. A van-accessible space should be 11 feet wide with an access aisle at least 8 feet wide. Access aisles must span the entire length of the parking space and not intrude into the spaces. Adjacent parking spaces can share the access aisle.
Regardless of how many accessible parking spaces you must have, the first handicapped space should comply with the ADA parking requirements for van accessibility in California. This space should also be properly labeled for asphalt maintenance. 
The number of ADA-compliant accessible parking spaces you must have is dependent on how many total spaces are in your parking lot:
Fewer than 100 total spaces: You must have one accessible parking space for every 25 spaces. Thus, if you have 50 total spaces, you would need two accessible parking spaces.
100 to 150 total spaces: You must have at least five accessible parking spaces.
151 to 200 total spaces: You must have at least six ADA-compliant accessible parking spaces.
201 to 300 parking spaces: You must have at least seven ADA-compliant handicapped spaces.
301 or more total spaces: You must have one accessible parking space for every eight spaces.
Accessible parking spaces should provide access to the building via the shortest and most direct route possible. Curbs in the path between the space and the building must have a ramp, but the ramp cannot intrude into the access aisle or parking space. You must provide clearly marked crosswalks if the route passes through a vehicular traffic path.
California ADA Signs
A business must follow certain requirements for the designing, manufacturing and mounting of an ADA sign. Along with following federal rules, a business's signs must also follow local and state laws. California's rules for ADA signs are stricter and more distinct than other states.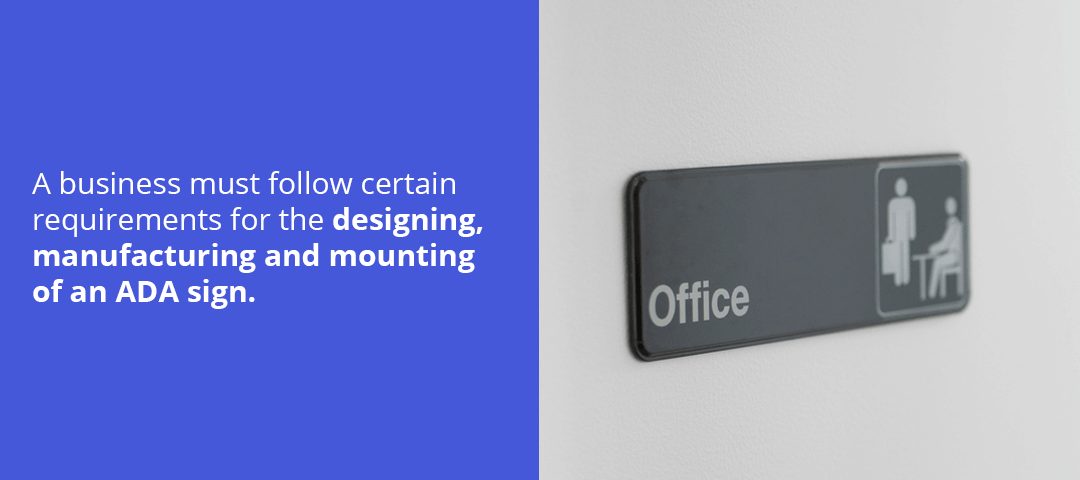 ADA Parking Sign Requirements in California
A sign that identifies a parking space should include the international symbol for accessibility and be mounted at least 60 inches above the ground. This requirement is put in place so the symbol can be seen even when a vehicle is parked in a space. If a parking space is van accessible, it should include a designation for this.
There should also be tow-away signs located at every entrance to the parking lot or adjacent to the accessible spaces. These signs should state that if an unauthorized vehicle is parked in a designated handicapped space, it will be towed at the owner's expense. The sign should also include the address and phone number for the location where the towed vehicle can be reclaimed.
ADA Restroom Sign Requirements in California
Under the Equal Restroom Access Act, the design and construction of equipment and buildings are specified for restrooms, along with the signs that should be included. Nationally, only one sign is required under the ADA to identify a public restroom.
Under ADA standards at the federal level, accessible restrooms must have pictograms of the international symbol for accessibility. They must also have tactile text that denotes the gender or genders that have access to the restroom. The Braille translation must be included directly below the tactile text. Pictograms that depict the gender with access to the restroom are optional and don't need to be tactile.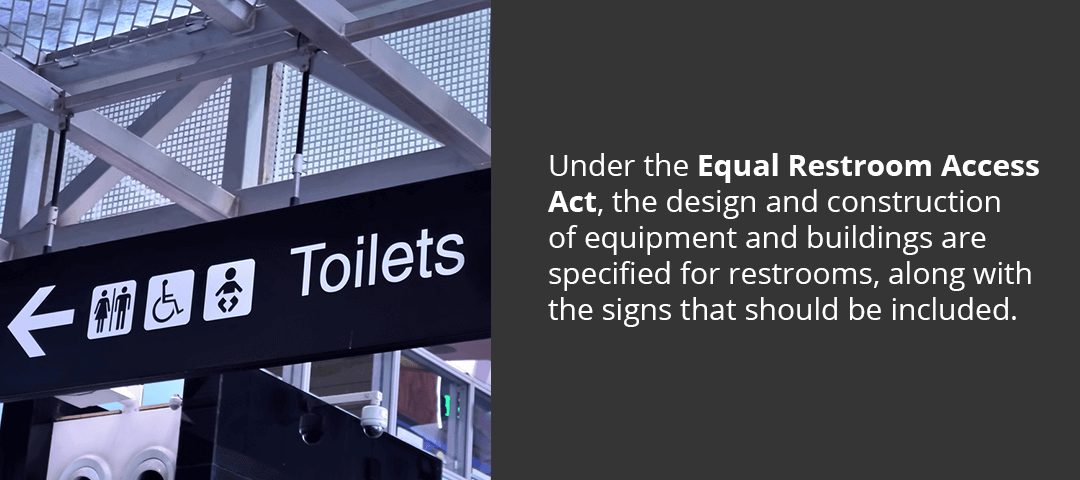 In addition to the federal ADA requirements, California requires two signs to identify a public restroom. These signs feature two geometric tactile symbols but do not include text, pictograms or Braille. These blank signs can be identified by California residents based on sight and feel:
Signs for women's restrooms: These signs should feature a circle that has a 12-inch diameter and is ¼ inch thick. The color of the circle should contrast with the door.
Signs for men's restrooms: These signs should feature an equilateral triangle that is ¼ inch thick and has 12-inch edges. The color of the triangle should contrast with the door.
Signs for unisex restrooms: These signs feature a ¼-inch-thick equilateral triangle within a 12-inch diameter circle. The color of the circle must contrast with the triangle's color, the door color and the color of the surface on which the sign is mounted.
The edges of the shapes should be chamfered at no more than 1/8 inch or rounded or eased at a minimum of 1/16 inch. A vertex of the shape should be radiused at no more than ¼ inch and no less than 1/8 inch.
Every single-occupancy restroom should be accessible to everyone, no matter their gender. Wall signs for single-occupancy restrooms should include text that reads, "Restroom," "All Gender Restroom" or "Unisex Restroom." Under this text should be the exact Braille translation. Local codes may vary and require additional features on signs meant to identify restrooms.
ADA Bathroom Requirements in California
California ADA bathroom requirements specify rules for the following features:
Accessible accessories: An accessible restroom should include accessible toilet accessories, such as paper towel dispensers, waste receptacles, sanitary napkin dispensers and soap dispensers. Toilet accessories should be located in an accessible range of reach, with the operable part of the accessory no more than 40 inches above the floor. Accessories cannot impede the path of travel and should protrude no more than 4 inches from the wall. 
Path of travel: Doors must be at least 36 inches wide with lever-style hardware. They should not swing into clear areas of the restroom. Clear areas must be 48 inches deep and 30 inches wide. There should also be a clear space that allows for someone to turn around while in a wheelchair in the form of a circle with a 5-foot diameter.
Accessible fixtures: Public restrooms should have at least one accessible toilet and lavatory. If a men's restroom contains urinals, there should be at least one accessible urinal. Accessible toilet seats should be no lower than 17 inches and no higher than 19 inches from the floor. Lavatories should be no higher than 34 inches from the floor with accessible knee clearance. Flush control should also be located no higher than 44 inches above the floor. 
Grab rails: Grab rails must be included at the rear and side of an accessible bathroom or stall. Grab rails should be mounted 33-36 inches above the floor. 
If you provide separate facilities for the non-disabled, you must also provide them for the disabled. For example, if a unisex facility is provided for non-disabled patrons, a unisex facility must also be provided for those with disabilities.
ADA Compliance Services From Maintco Corp
Maintco Corp is a full-service ADA accessibility consulting firm. We handle every step of the process from start to finish, working with local safety and building departments to ensure your project is ADA-compliant. Our ADA consulting and retrofitting services include the following:
Handrail installation
Paths of travel compliance
Parking lot striping and signage
Sidewalk and curb access ramps
ADA compliance and remediation
Lobby, hall and restroom retrofitting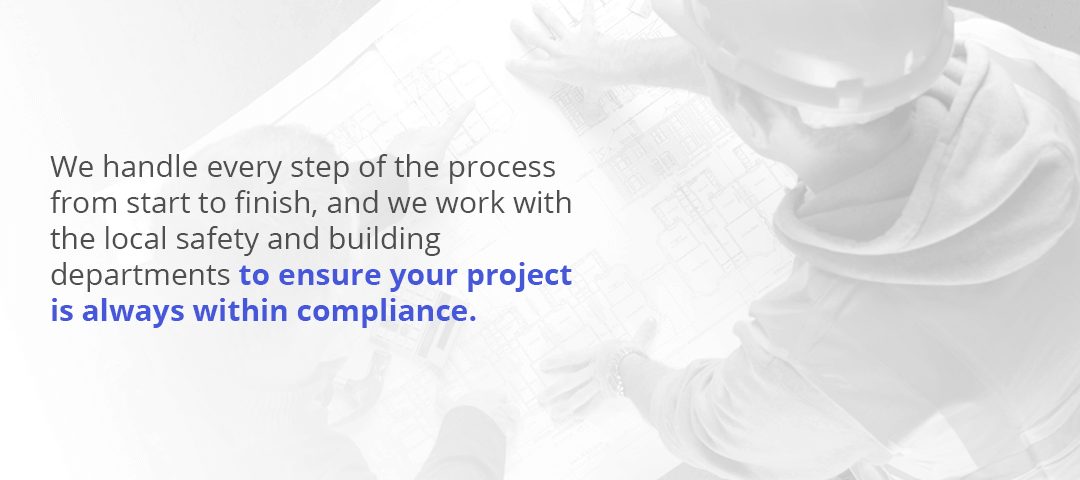 When you work with Maintco Corp, you can enjoy peace of mind knowing we are reducing the risk of potential lawsuits and fines. Our thorough approach to finding simple solutions for difficult problems allows you to focus on the needs of your organization and customers. We work with experienced building inspectors, architects and civil and structural engineers to identify and solve possible ADA compliance issues.
Contact Maintco Corp for Construction Services and ADA Consulting
At Maintco Corp, we are a licensed, full-service general contractor serving California and neighboring states. We can increase project clarity, reduce stress and enhance efficiency for facility management and construction teams. Our primary goal is to provide outstanding customer service. 
Many companies offer separate services for equipment, maintenance, retail construction and food and beverage installation. At Maintco Corp, we collectively perform all of these. We also provide warranties for our products and services. With three decades of experience, our diverse team of professionals, superintendents and project managers is dependable and knowledgeable. We strive to mitigate potential future issues in construction design that can cost money and time. 
Contact Maintco Corp today if you need a construction company for facilities that meet 2023 California ADA requirements.