How To Choose The Right Commercial Contractor
Posted on: March 31, 2023 in Construction
Share:
Whether you're constructing a new building or remodeling an existing one, choosing the right commercial contractor will ensure your project runs smoothly. Learn how to choose the right commercial contractor for your convenience store with our tips below.   
The Benefits of Hiring a Commercial Contractor
Commercial contractors are general contractors with experience in building and renovating commercial, multi-site facilities. Hiring a commercial contractor to oversee your project can benefit you in multiple ways, including the following:
Organization: Commercial contractors manage your entire project from start to finish. They'll organize all the trades involved to deliver your project on time and within budget. 
Cost-effectiveness: Commercial contractors often get discounts and special offers from material distributors and suppliers with whom they've established a working relationship. You can save a lot of money by not paying full price for building supplies. 
Competence: Commercial contractors are highly trained and licensed to perform commercial work by the authorization body in their area. You can expect your contractor to take full responsibility for your project and complete it within acceptable standards. 
When to Hire a Commercial Contractor
What kinds of projects require the capabilities of a commercial contractor? You'll want to hire one when:
Your commercial property needs significant renovations that must meet specific standards 
The project requires many trades
The project must meet a budget and timeline
Working in a location that poses unique building restrictions
How to Choose the Right Contractor
Now that you know the benefits of hiring a commercial contractor and when you're likely to need one, let's discuss how to find commercial contractors. Hiring the right commercial contractor is a major step in any construction or renovation project. 
Use the following checklist to help you choose a professional, safe and reliable contractor:
1. Review Their Portfolio and References
Checking out their body of work is a good place to start when searching for a commercial contractor. Pictures and details of their previous work can give you an idea of their construction capabilities. Your completed project should reflect your brand and industry expertise, so look for work that impresses and inspires. 
Try to visit the contractor's previously built facilities if you can — this way, you can see first-hand their craftsmanship, attention to detail and originality.
As you browse portfolios, review available case studies to learn about the types of site challenges the contractor has overcome in the past. 
Reach out to the contractor for a list of references and ask project owners about their experiences with the contractor. Pictures of previous projects are a great way to evaluate a contractor, but the relationships they've created with customers and their ability to deliver on promises will tell you even more about their reputation. 
The following questions can reveal a lot about a potential contractor: 
How easy was it to work with the team? 
Were they detail-oriented in their proposals and follow-through?
Did they stay on budget and on schedule?
How did they handle challenges, roadblocks or setbacks? 
2. Assess Their Offerings
The building process is much more complex than simply erecting a structure. As you obtain proposals from potential contractors, consider how they can address other demands on your budget and schedule.
A commercial contractor who addresses each facet of the building process will be invaluable to your project. For example, some contractors offer pre-referendum services that educate and inform the public about the project and provide an estimated cost. 
If pre-referendum services are an option, explore the scope of those services. Does the contractor merely offer consultation, or do they conduct feasibility studies, make themselves available to the community and provide informational materials?
If you're interested in interior design, you may want to choose a contractor with an interior design division that can ensure the building's finishes suit the architecture and the type of business. 

Try not to choose a contractor on the sole basis of price. Instead, do your homework so you understand the full scope of their services. 
3. Check Their Safety Ratings
Safety is of utmost importance in the construction industry as the building process can pose a high risk to workers. An accident on the job can bring your project to a screeching halt, and the resulting fines, lost wages and legal proceedings can be devastating.
The level of attention your contractor pays to safety reflects how much they care for their employees as well as their ability to deliver your project safely, on schedule and on budget. 
Review the contractor's safety record to determine how diligent they are when it comes to worksite safety. A company with an impeccable safety rating can help protect your interests and your reputation. 
4. Inquire About Timeline and Budget Adherence
Knowing how to keep projects on schedule and on budget is a sign of a reputable contractor. The ability to execute work within a carefully planned budget and timeframe is the result of talented tradesmen committed to reliable processes. The right commercial contractor will run your project like a well-oiled machine. 
Many of today's general contractors for commercial buildings use technology to help manage all the variables of a project, including the following: 
Timelines 
Contracts 
Costs
Subcontractors 
Building permits
Materials 
Deliveries 
Ask about the contractor's record for projects completed on time, as well as how they address project changes, complications and other unexpected situations the building process can present. 
5. Get to Know The Contractor and Their Team
Once you've hired a commercial contractor, you'll work closely with their team until your project is complete. This timeframe can span months or even years, depending on the project scope and the type and amount of services it requires. With this in mind, you can see how important it is to choose a contractor with whom you align and get along well. 
The proposal and budgeting process is an opportune time to get to know the contractor and assess their level of expertise. Get an idea of how accessible they'll be throughout the project and how well they communicate. You should feel comfortable sharing ideas and giving and receiving feedback.
While a commercial contractor should satisfy all your process, budget and design needs, it's equally important that you establish a genuine, trusting relationship with them.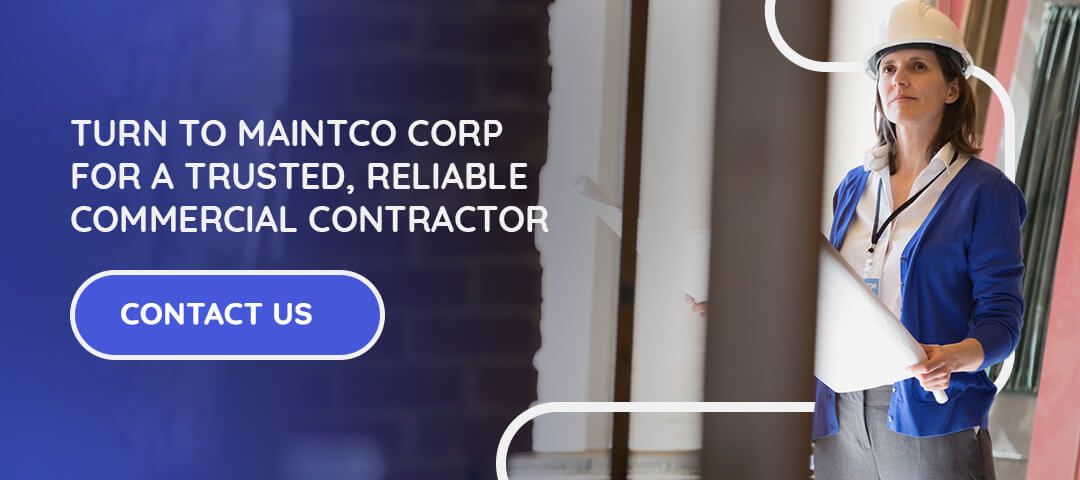 Turn to Maintco Corp for a Trusted, Reliable Commercial Contractor
Maintco Corp is a full-service, licensed general contractor with a special focus on convenience store renovation and ground-up construction. Our expert project managers and superintendents bring extensive knowledge and leadership to your project, so you can expect high-quality work and top-notch results. 
Contact Maintco Corp today to discuss your convenience store building or remodeling needs. We look forward to building a strong and mutually profitable relationship with you!