Paving Contractor in Los Angeles, CA
As a licensed general contractor serving California since 1992, you can trust Maintco Corp for your paving needs in the Los Angeles area. We're a full-service construction company featuring a diverse team of project managers, superintendents and expert craftsmen who bring extensive knowledge, skill and leadership to every project. Customer service is our primary focus — our goal is to ensure your total satisfaction with every aspect of your paving project.
Choose Us for Asphalt & Concrete Paving and Maintenance
Our commercial paving and coating services in Los Angeles include laying down hot mix asphalt that provides reliable, long-lasting protection for your property's exterior surfaces.
We're also available to perform timely maintenance to keep your facility's parking lots, walkways and access roads in peak condition and preserve their appearance. We can fill cracks and potholes, repaint lines and execute spot repairs. We can also handle more extensive pavement rehabilitation projects, including repaving entire surfaces.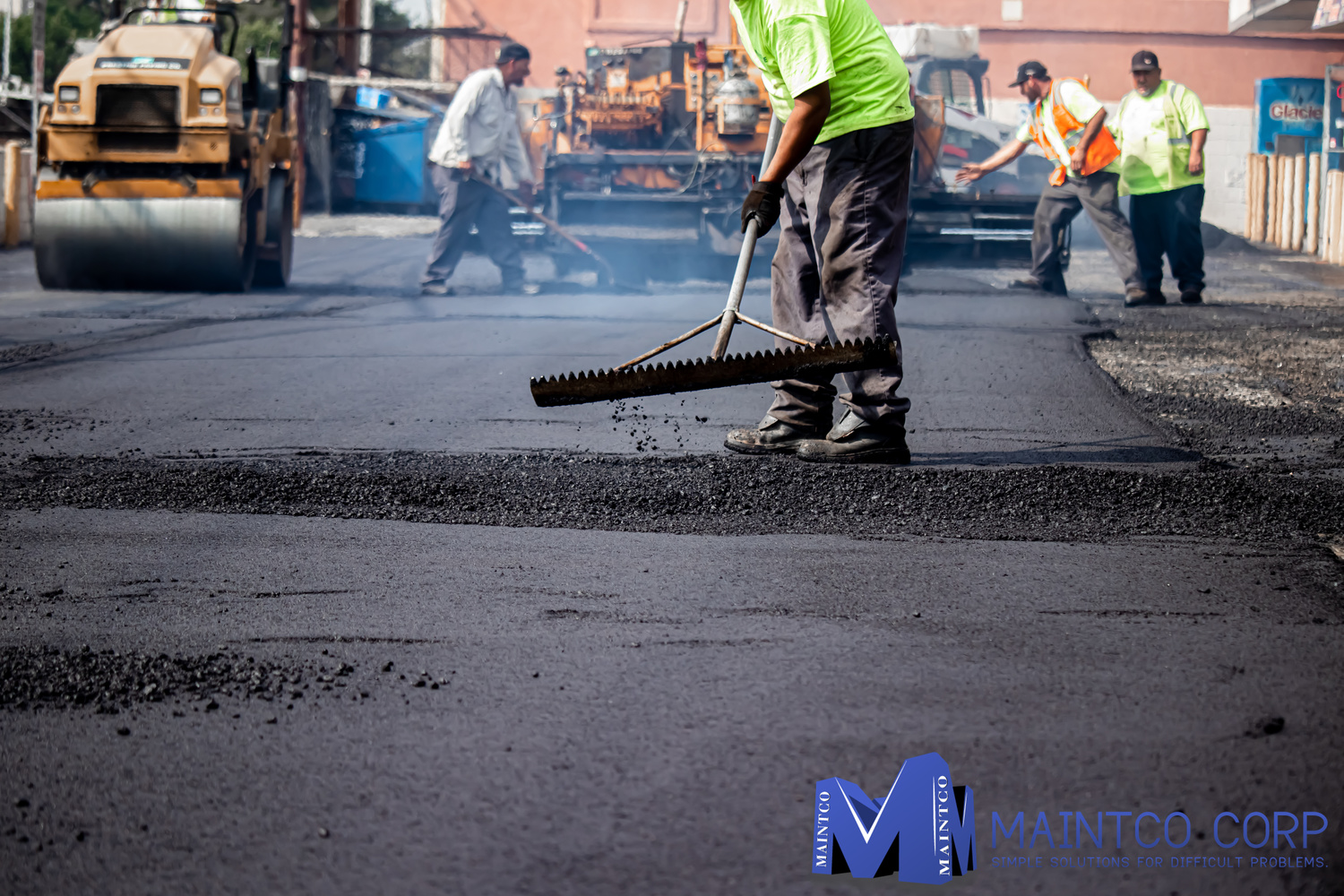 Sealcoating Is One of Our Specialties
Sealcoating is one of the most reliable and cost-effective solutions for preserving asphalt surfaces, making it an essential step in many parking lot paving projects and similar applications. A sealcoat consists of a precise blend of liquids and small-particle solid materials — typically sand, asphalt and various mineral fillers.
The application of a sealcoat in cracks and gaps in an asphalt surface forms a barrier that protects against damage from the sun's ultra-violet rays, rain, chemicals and vehicle traffic. At Maintco Corp, we understand how to use this process to lengthen the lifespan of parking lots, roadways and other areas and prevent expensive repairs.
[Read More]
We'll Help You Meet ADA Compliance Requirements
As a full-service ADA accessibility consulting and design firm, Maintco Corp recognizes the challenges many Los Angeles business owners face when ensuring parking lot construction, repaving and restriping projects comply with the Americans with Disabilities Act. We can perform asphalt & concrete paving and maintenance work that meets the strict guidelines and helps you avoid costly fines, penalties and potential lawsuits. These services include:
Creating additional spaces for individuals with disabilities as needed.
Performing line painting to provide parking spaces that meet ADA width requirements.
Ensuring the appropriate placement of the spaces.
Verifying that the path between the spaces and building entrances are free of obstacles.
Pouring and sloping concrete ramps and walkways to ensure ADA compliance.
You'll have peace of mind knowing that you're meeting your customers' needs and adhering to all applicable regulations.
Learn More about Our ADA Compliance Services
Learn More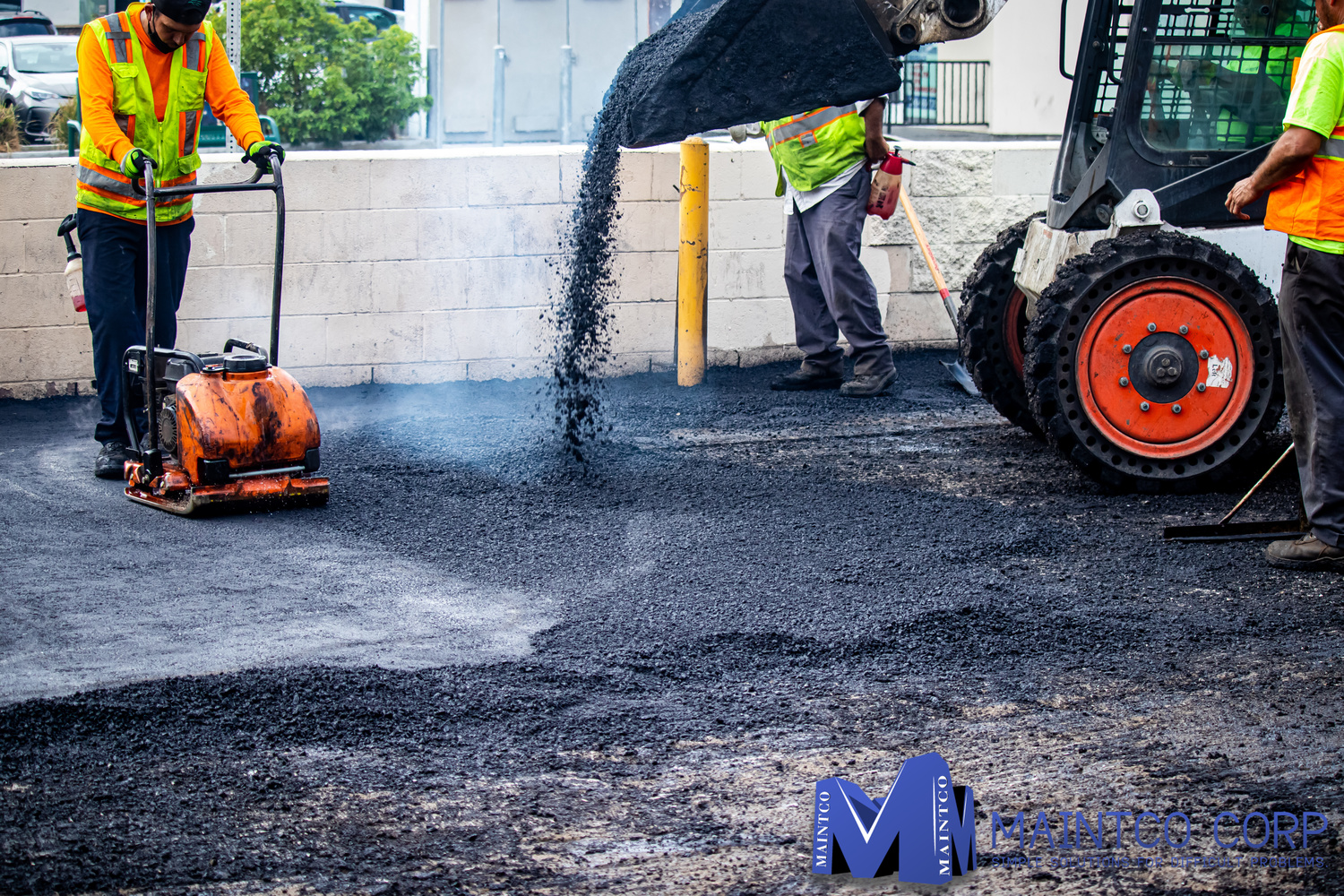 We're Full-Service Concrete Pavers in Los Angeles
If you're looking for a trustworthy concrete paving contractor in the Los Angeles area, Maintco Corp can do much more than pave ADA-compliant walkways and ramps. Our masonry-related services include all types of extensive restoration and maintenance projects that require maximum durability and long-lasting results.
We can construct a concrete apron, an extension of a concrete slab from a driveway to the street, or around a building that serves as a transitional slope or assists with water drainage. We can also perform concrete curb and gutter installation at the perimeter of a roadway or parking lot to define the edges more clearly, help to secure the pavement and facilitate stormwater runoff.
We're also adept at working with concrete masonry units (CMUs), also known as architectural blocks. This versatile building material is a popular choice for constructing block walls and retaining walls — but they are susceptible to cracks, stains and other damage. We can restore CMU structures to like-new condition and perform sealing and waterproofing to prolong their lifespan.
[Read More]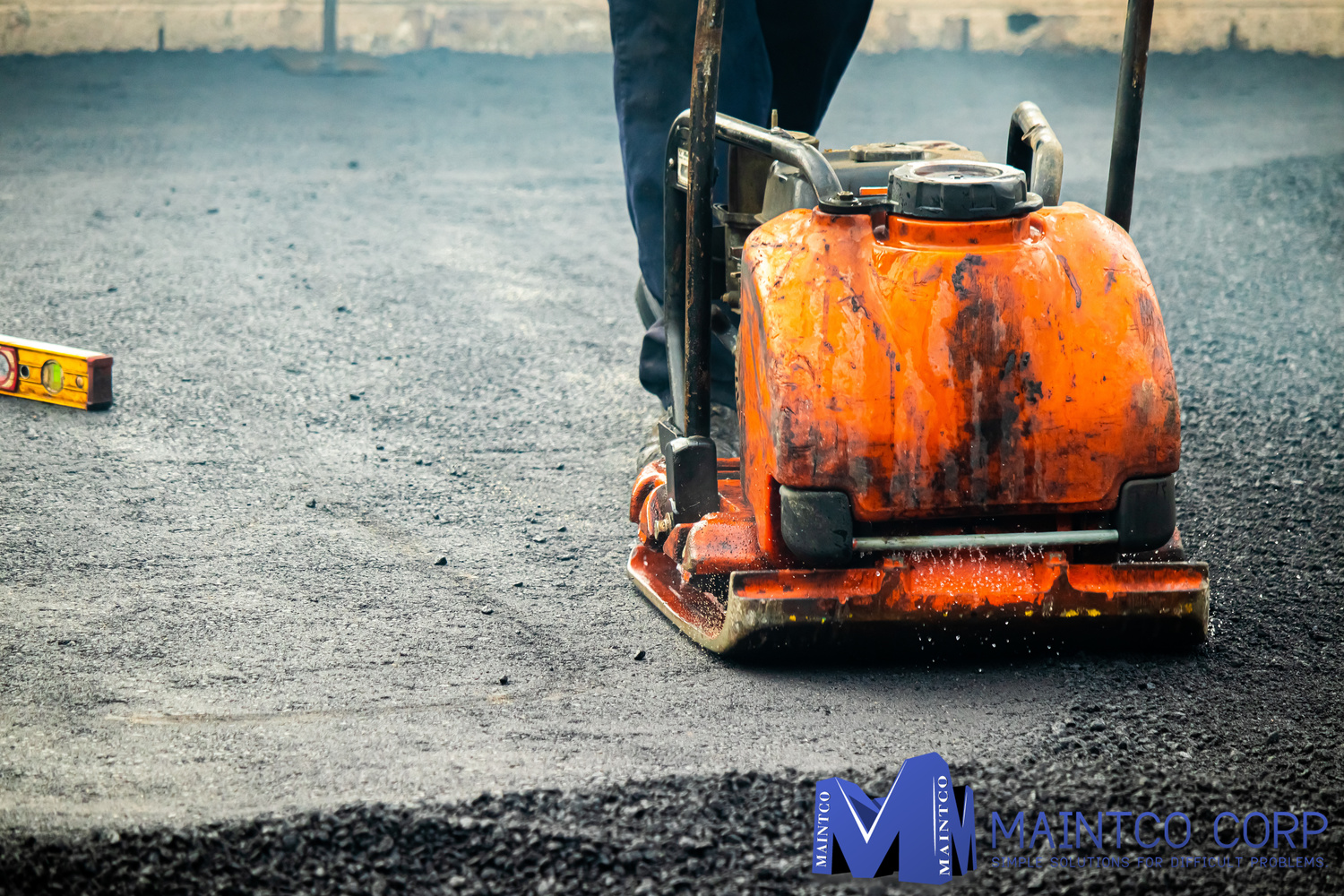 Why Make Us Your Paving Company in Los Angeles?
When you select Maintco Corp for your concrete & asphalt paving needs, you get:
A trusted partner who strives to build and maintain long-term relationships with every customer.
Efficient work that meets your high expectations and quality standards.
An innovative company that utilizes advanced technologies to maximize your project's results.
Cost-effective construction and facility maintenance solutions that contribute to a healthier bottom line.
[Read More]
Contact Us to Learn More About Our Paving Services
Discover what makes Maintco Corp the leading paving contractor in Los Angeles, CA, and beyond. Give us a call at 818.276.6300 or contact us online today.