Essential Tips for Successful Tenant Improvement Projects
Posted on: September 9, 2022 in Maintco Services
Share:
Tenant improvement projects are essential for commercial buildings. Renovations and improvements can raise tenant satisfaction and even increase revenue. Whether you're constructing a new commercial building or renovating an existing one, these projects take your business to the next level. 
Successful tenant improvement projects need comprehensive plans. Mapping out your project beforehand with tenant improvement timelines makes it easier to remember every component during construction. Learn more tips for tenant improvement projects below.
Contact Us To Transform Your Space
7 Tips for Tenant Project Improvements
Businesses of all sizes can benefit from project improvements. From upgrading an air conditioner to renovating an entire floor, these plans raise your property's quality. If this is your first project or you need help getting started, these tips can help.
1. Plan Your Budget
Set a budget before you begin tenant improvement construction. Budgets track the involved costs, keeping your project organized. By finalizing a budget early on, you can reduce uncertainty or other financial problems later on. Projects vary in tenant improvement costs. Many present unexpected financial requirements, and a budget can help you manage these.
Your financial allowance will likely depend on your company's resources. With a set amount of money in mind, you can see what's possible for the space without going over budget. A budget helps you choose materials or designs that fit within your financial means rather than overextending them. The better you stay within your budget, the more likely you'll successfully complete the project.
If you're working with a contractor or architect, communicate your budget with them early in the process. They can help you design a project that accommodates your budget and improves your space. Seek the help of professional construction technicians, like the team at Maintco. We can help you create a design that fits your budget and recommend the best options for your financial means.
2. Use Existing Space
Every project has physical parameters. These could be the available space you have for a new building, the location size or the existing features of your renovation area. Instead of viewing these as limitations, think of ways to maximize the existing space.
Staying flexible and planning your project around the current space helps you stay on budget. This strategy can also set realistic expectations for your plan, helping you finish successfully. For instance, if you have a wall that features exposed brick, you can think of creative ways to include it in your design. 
Our expert team at Maintco can help you design an improvement project based on your current space and budget. We can analyze the available area and offer suggestions on upgrades.
3. Install Lighting
If you need ideas on how to upgrade your tenant space, consider the lighting. Upgrading the lighting creates a new aesthetic for your space. If you wanted to make the area feel more open without expanding square footage, adding new light fixtures or windows can help.
Adding more lights can also help with employee productivity and customer satisfaction. A well-lit space promotes positivity and makes it easier to concentrate. Customers visiting your commercial space will leave feeling more positive, while workers can feel more satisfaction in your work. Natural light can also reduce operating costs, as it can lower energy use spent on artificial lights.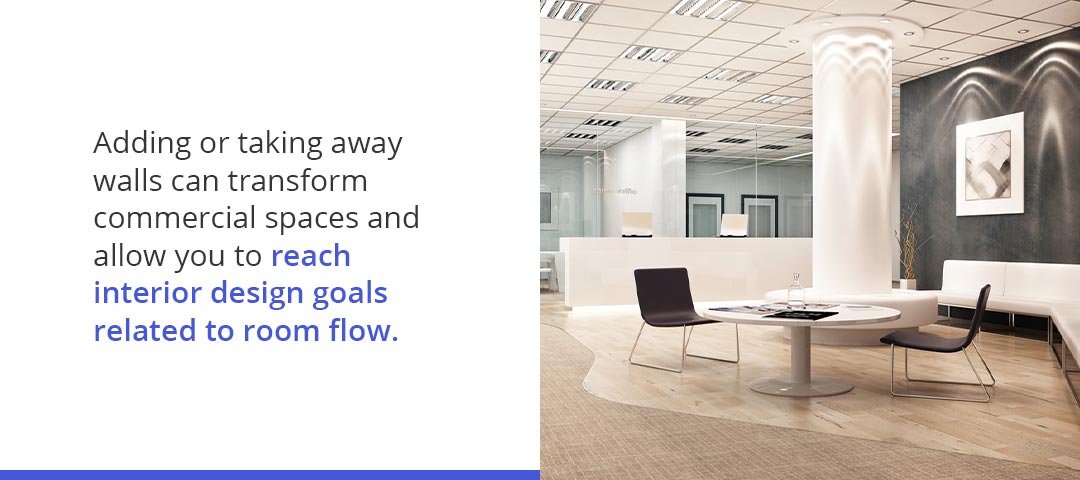 4. Add or Remove Walls
Adding or taking away walls can transform commercial spaces and allow you to reach interior design goals related to room flow. Installing a wall can help you:
Create more rooms or offices
Eliminate unnecessary or extra space
Achieve a new design goal
Removing walls can assist with goals like:
Expanding available space
Incorporating an open floor plan
Creating a more team-based environment
You can work with Maintco's team of construction professionals to plan a wall installation or removal project. Our decades of experience help us optimize your space in the best way possible.
5. Incorporate Storage Space
You could also consider adding more storage space to your commercial building. Whether you run a restaurant, a medical office or another business, extra storage can improve your location's appearance and functionality. Adding additional shelves or other fixtures like closets can help business owners organize stock and reduce clutter, which also creates a safer working environment. 
Maintco can help you find the best spaces for additional storage. We can offer expert advice on where to implement new shelves, closets or other fixtures. Then, our technicians construct storage areas that optimize your available space.
6. Make Your Space Accessible
It's crucial to make your commercial space accessible for all users. Your design should let all employees and customers exist comfortably. Accessible features help all visitors feel seen and respected.
Think about upgrading or installing these features in your next tenant improvement project:
Wheelchair ramps
Accessible bathrooms
Adjustable desks and equipment
Maintco has extensive experience with Americans with Disabilities Act (ADA) compliance and guidelines. Our proactive construction solutions help you adhere to ADA guidelines and ensure a safe space for all visitors. We also offer comprehensive ADA compliance consulting. Our consultants guide you through the entire project and advise you on ADA compliance with every step. Whether you want to upgrade your restrooms or any other area of your facility, Maintco can help.
7. Add Functionality
Strive to choose projects that add to the purpose of your buildings. For instance, if you wanted to create more space in a restaurant, you could remove a wall and add more tables. 
Consider your current business goals for your company and your tenants' needs, and think about how you can add a fixture that would help. Try to make a functional and purposeful space that helps with efficiency.
If you need help coming up with functionality ideas, enlist the help of licensed contractors like the team at Maintco. The right contractor will ensure the project adds purpose to your organization. We can help you craft a project that optimizes your space and helps with business goals.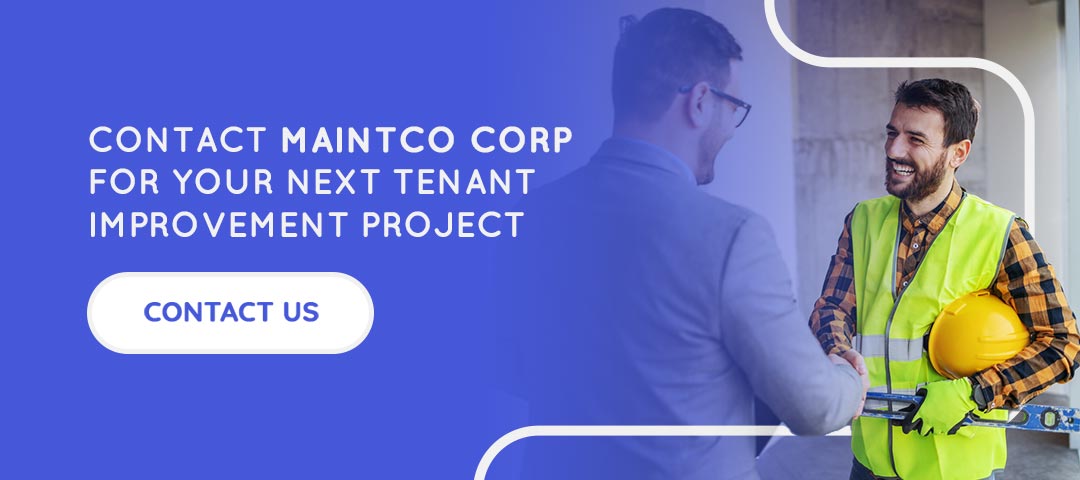 Contact Maintco Corp for Your Next Tenant Improvement Project
Professional contractors can help you ensure your improvement project gets completed successfully. If you're in the Los Angeles area and are planning a tenant improvement project, choose Maintco. Our crew of technicians is available all over the Los Angeles region, saving you driving time and costs.
Maintco offers a wide range of construction solutions, including:
Planning and design
Equipment sales
Construction
Installation
Maintenance
We can help you through every step of a tenant improvement project, optimizing your space to meet individual goals. Our licensed technicians have decades of experience and strive to find the best solution for your commercial space. Whether you need help getting started or already have a plan in mind, Maintco is here for you.
To get started with Maintco, contact us today.