With Gas Prices Soaring, Maintco's Efficient Routing Saves you Money
Posted on: August 4, 2022 in Maintco Services
Share:
Because of multiple global factors like the 2020 pandemic and the geopolitical risks occurring in 2022, rising gas prices and inflation are affecting every U.S. industry. When it comes to the construction sector, materials and skilled labor are more expensive and there is a shortage of both, especially materials like lumber and steel. These shortages make it more challenging to secure projects on every scale.
Since developers and contractors are getting hit hard with a spike in material and fuel prices, do you simply absorb the increased prices, or is there a way to battle high inflation with a bit of creativity?
Maintco Corp is a full-service and licensed general contractor. We're here to help you understand how to save money on a commercial construction project while rising inflation affects construction costs.
Contact Us To Save Money On Your Next Project
Rising Gas Prices Are Affecting Construction Companies
Gas price inflation means financial hardship for the average driver and large-scale changes and challenges for how the construction industry operates. With gas prices increasing, commercial construction costs like producing and transporting goods and materials, labor wages and operating heavy equipment will be affected on nearly every level.
Data from the U.S. Census Bureau shows that construction costs from Jan 2020 to Jan 2021 rose by 17.5% year-over-year, which is the largest spike since 1970. Comparing 2021 to 2019, costs were 23% higher.
According to Verisk, U.S.  reconstruction costs rose to 13.5% from April 2021 to April 2022, which includes labor and material costs. The overall inflation rate year-over-year was up 8.5% in March 2022.
Inflation is making the volatility in reconstruction prices worse, which started to intensify when the full force of the pandemic hit in early 2020. Other results of the pandemic and foreign affairs include labor shortages and collapsed supply chains.
A sudden influx and drive in homebuilding and renovation from 2020 to 2022 have created an even higher demand for construction labor and materials. In March 2022, fuel prices increased in the U.S. by about 46%.
In more detail, lumber prices reached a historic high in 2021, and are now sitting at about a 29% year-over-year rise in April 2022. Plus, interior trim composite saw one of the highest surges at nearly 30%. Other components of the industry affected by fuel prices are roofing composite and drywall which increased by about 17% and 13%, respectively.

Producing construction materials is already an energy-intensive task, but now that gas prices are increasing construction costs, obtaining materials is more challenging than ever. It's unlikely pricing levels for lumber and other sources like fuel will return to pre-pandemic numbers in the next year, so with multiple factors affecting the construction industry, how can your company create a workaround?
Construction Companies Need to Get Creative To Battle High Inflation
Instead of increasing your rates to match escalating gas prices, inflation and material shortages, it's better to get creative and strategize ideas on how to maximize your profits. Look for impactful changes, substitutions and ways to save money on your commercial projects. Without a strategy to combat your limited budget, price increases and complicated bidding prices, you lose your competitive advantage. 
For example, the following aspects affect your overall business:
High gas prices for material transportation
High fuel prices to operate heavy equipment
Escalated demand for construction
Inflation
Limited and costly materials
Labor shortages
Increased wages
Because each of these aspects is unpredictable and unreliable at this time, bidding is even more challenging. Estimating future costs of a project with many unknown factors can alter a job's timeline multiple times over.
Here are 9 ways your construction company can battle high inflation.
1. Examine Your Budget
It's time to be realistic. Take a look at the current inflation prices and how it compares to the final cost of your next project. From there, adjust your bidding process. You can do this by adding possible circumstances to the costs, like increased fuel prices or delayed material shipping. In some cases, it's smart to keep backup cash on hand when inflation outpaces the appraisal since it doesn't consider material prices.
2. Have Open Communication With Stakeholders
Open communication is imperative, and even more so now because of fuel price and inflation volatility. Talk about risk sharing with your stakeholders by discussing the possible challenges your team will face from inflation. You can collaborate on how to move forward like with an alliance-style contract agreement or alternate contract stipulations.
3. Reassess Your Supply Chain and Material Procurement Processes
Materials are more expensive and harder to obtain, so it's vital to take this into consideration when determining a project's completion time. Look into your supply chain and assess how it holds up during price increases and delays. For some businesses, it can be worth stockpiling some of your most essential materials.
Compare and contrast the benefits of investing in storage and security vs. delayed material deliveries. Buying in bulk when material becomes available has the potential to protect you from future increases and shortages, keeping your projects on track and close to your original budget.
4. Plan Ahead of Time
The pre-construction phase is a time when you can ensure the project is organized and streamlined. For example, consider the following:
Determine project-specific goals
Identify interferences
Streamline planning and development
Allocate roles to specific teams
Calculate precise materials to lessen waste or buy in bulk to place in storage
Getting the groundwork done sets you up for success and a smoother process. Work with your team to pinpoint any bottlenecks and remove redundant tasks to fine-tune the job as you begin construction. It's also imperative that you update your insurance policies ahead of time. Revise your policy to avoid being underinsured when dealing with high material, gas and labor costs.
5. Look for Unique Opportunities
While construction for retail spaces, offices and entertainment areas may have decreased over the past few years, it leaves many unoccupied buildings in need of renovations. Since 2020, many businesses have unfortunately had to shut down. But as things begin to open once more, you can invest your operations into refurbishments for new businesses heading into the market. Other sectors to look into include public, warehouse and non-residential buildings.
6. Cut Your Money Where It Makes Sense
While you can't influence the rising price of fuel or make your materials arrive any faster, you can make cuts in your business that are no longer serving you in this economic climate, or ones that you can do without for some time. Cutting costs is a case-by-case situation, so take a look at your operations from the minute details to a larger scale and discover where you can make financial changes.
7. Work With Different Materials
Materials ranging from lumber and steel to ready-mix concrete, gypsum and iron have seen drastic price increases in the past two years and continue to fluctuate. Therefore, it's wise to see what alternative materials are available that deliver similar properties at a lower cost. Consider your most-used materials, costs and supply chain timelines for each.
From there, learn more about your industry's alternative materials. How can certain resources fit with your projects? Are there cost-effective solutions that have similar if not better properties? Is this change in resources also better for the environment?
8. Rely on Prefabrication
Prefabrication or modular construction is a process where pieces of a building are assembled in a controlled environment, then shipped to a site's location. It's an innovative method that can reduce costs and streamline the construction process. You can use prefabricated components rather than building from the ground up, which often takes more time, money and resources. However, be careful to compare and contrast this method with typical construction techniques because it also includes transportation costs.
9. Invest in Smart Technology
Smart technology can support small-scale operations to massive, multi-year construction jobs. Technology can support everything from schedules, permits, contracts and timelines to materials, efficiency levels and deliveries. Several examples include:
Augmented reality
Artificial intelligence
Drones
You can also use technology to assist you in tracking everything involved in the process to ensure accountability and transparency. You should have tracking in place to keep all the data and documents between each party in one place. 
When it comes to inflation and high gas prices, they will eventually retreat in the coming year as the market ebbs and flows. But for now, consider how these 9 positive avenues can support you and your team in combating high fuel prices and their effect on construction companies.
6 Important Things to Consider When Hiring A Commercial Construction Company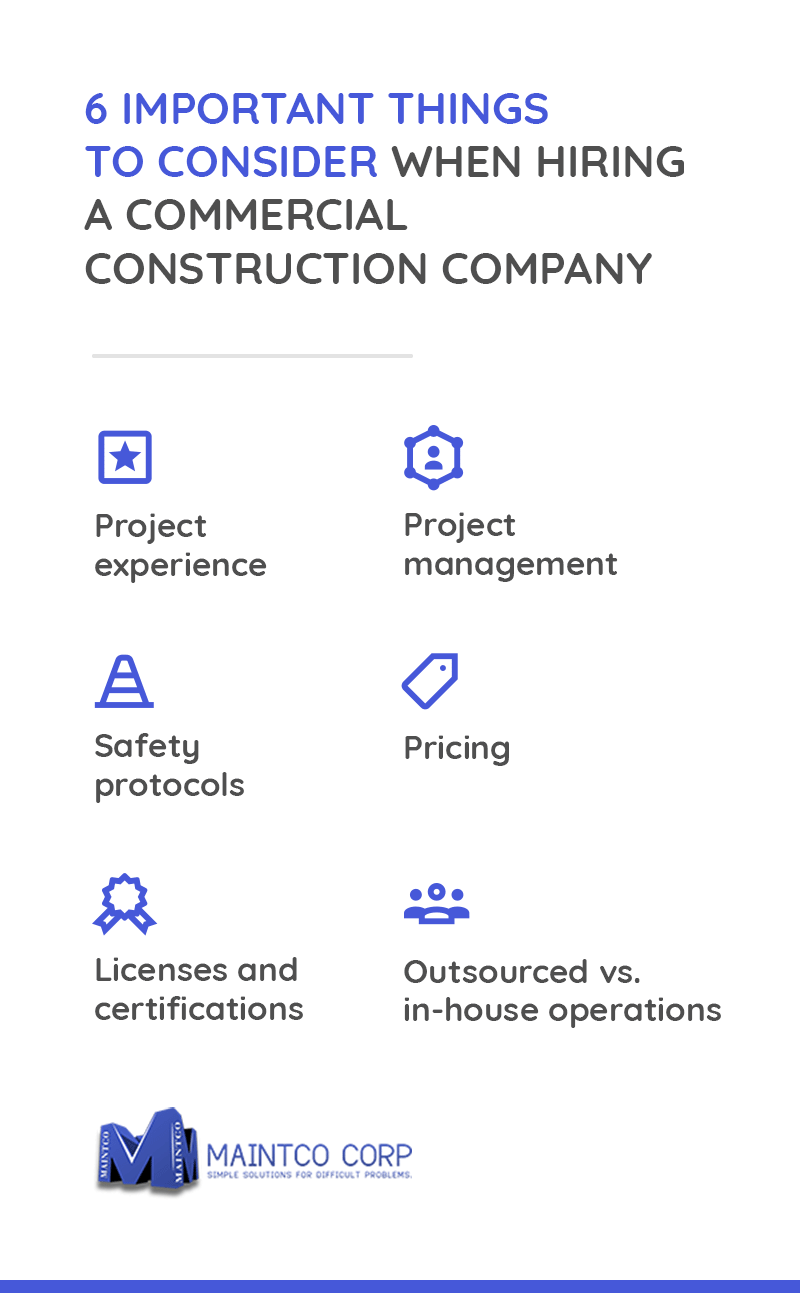 Working with the right contractor for your specific job can be the difference between durability and quality, easy communication and transparency and a safe process from start to finish. This is a given for a typical project, but construction during high inflation deems it even more necessary to partner with a company that fits your requirements, expectations and budget.
Manage thorough research and consider several of the best options for your standards. Here are six key factors to consider when working with a commercial construction company.
1. Project Experience
Start by ensuring the company has solid experience, especially in your specific niche. Are they experienced in the specific type of structure you require, like public facilities, medical buildings, governmental, schools or sports complexes?
You'll also want to ensure they have a solid list of references. Take time to call the company's previous clients and learn about their experience. Ask questions, such as:
Does the contractor have a good rapport, a positive reputation and excellent communication?
Were they available and willing to answer questions or concerns?
Was the builder transparent when it came to expenses and timelines?
What types of challenges were they able to overcome?
You can also look at their portfolio, read online reviews and in some cases, visit their previous sites that inspire you. When you make a decision, assure there is clarity behind each aspect of the project, as the contract should include minute details. Relationships are everything in this industry, so look for a company's ability to follow through with honesty, quality work and customer service. 
Maintco Corp builds strong and mutually profitable relationships not just with you, but with our suppliers, representatives, dealers and partners to deliver on your requirements.
2. Project Management
Project management goes far beyond the completion of a job. Aspects like budget, scheduling, policies and the relationship they build with you all play a part. Consider the following questions:
Do they propose reasonable timelines that consider unforeseen events like weather and factors like inflation, gas prices, material shortages and labor?
What is their track record for on-time project completion?
Do they leverage technology to help them manage all the moving parts of a project?
What are their guarantees and policies?
It's not uncommon for construction projects to delay start times and surpass completion dates because of unpredictable elements. You can make sure the builder adheres to the contracted start and end dates, but it's more realistic to make sure they are transparent with these details as unforeseen challenges appear.
Build a relationship with the construction team no matter how long your structure takes. This makes for smoother communication and encourages a collaborative environment where ideas are welcomed and feedback is positively accepted. 
Maintco Corp strives to deliver outstanding customer service and superior project management to increase project clarity and boost the productivity levels of your team. We rely on communication as our main tool to build a long-term relationship with you. And through our diverse team of project managers, superintendents and professionals, we bring extensive knowledge and fresh leadership skills to every project.
3. Safety Protocols
A contractor's priority must always be the safety and well-being of their team. If there is any hesitation to show you their protocols, take caution moving forward. Ask potential builders the following:
What are your safety records?
Do you have safety insurance?
Do you comply with the states' safety standards?
What are your guidelines for injury prevention?
Partnering with a business that has a proven safety record will protect your assets and interest on top of your reputation.
4. Pricing
While price is an inevitable factor you must consider, it shouldn't always be at the forefront of your list. Customer service, quality, communication and reliability are all just as crucial in the hiring process. When it comes to the quoted price of a commercial project, ensure the builder is explaining the scope of the job in detail from one step to the next. Keep in mind that a low bid may fall short of your expectations. 
Maintco Corp works to take every factor into consideration, giving you an accurate and honest estimation.
5. Licenses and Certifications
As you're conducting research, a commercial construction license is a vital credential every commercial construction company should have. Ask to see their documentation and make sure they are in compliance with their states' laws by ensuring they have an insurance policy. You can also see what certifications they maintain. 
Maintco Corp, for example, has the following:
CPM
LEED AP®
LEAN/SIX-SIGMA GREEN BELT
SBE
WBE
LBE
ADA
An Americans with Disabilities Act (ADA) certification is also worth looking into if you're constructing a public building. The ADA certification eliminates structural barriers and requires altered facilities that are readily accessible for people with disabilities.
6. Outsourced vs. In-House Operations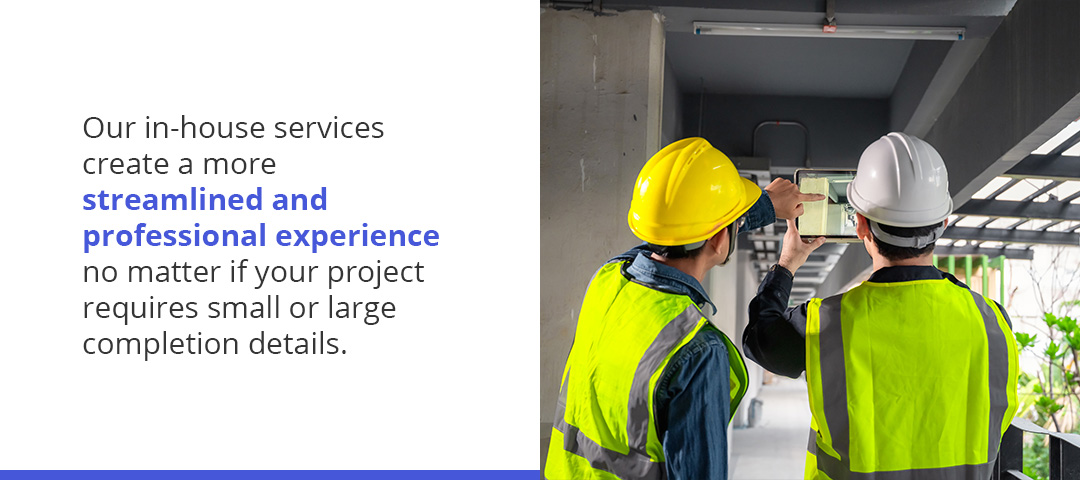 In-house solutions compared to outsourcing can make a huge difference in your experience with a construction company. If they have in-house operations, it means someone is on-site with exact specifications, like engineers, architects, plumbers and electricians. Dig deeper into what the contractor provides and consider:
What is their entire scope of services?
Do they outsource construction services or do they offer complete design and build?
Can they alleviate other demands aside from building the structure you need?
Do they offer pre-referendum services and interior design?
Maintco Corp has an in-house technician force that covers all of the greater Los Angeles regions. Our in-house services create a more streamlined and professional experience no matter if your project requires small or large completion details. We are always looking to positively and thoughtfully expand our operations, including technology, intellectual property and customer base. Our in-house services provide improved and faster results thanks to our expert craftsmen from a multitude of trades.
Benefits of Hiring Maintco Corp for Your Next Commercial Construction Project
Partnering with Maintco Corp for your next commercial construction project reaps incredible benefits, such as:
Diverse project experience with a high customer rapport
Superior project management through transparent communication
Stringent safety protocols
Accurate and honest project pricing
Licensed and certified in several areas
Streamlined in-house operations
We serve industries that range from industrial and medical to government and commercial, providing facilities services like roofing, carpentry and landscaping. Some of our construction services include:
Infrastructure
Remodeling
Procurement
Warehousing
Estimating
Scheduling
Maintco Corp brings concepts to reality, taking all aspects of a project into consideration to deliver on our promise to you.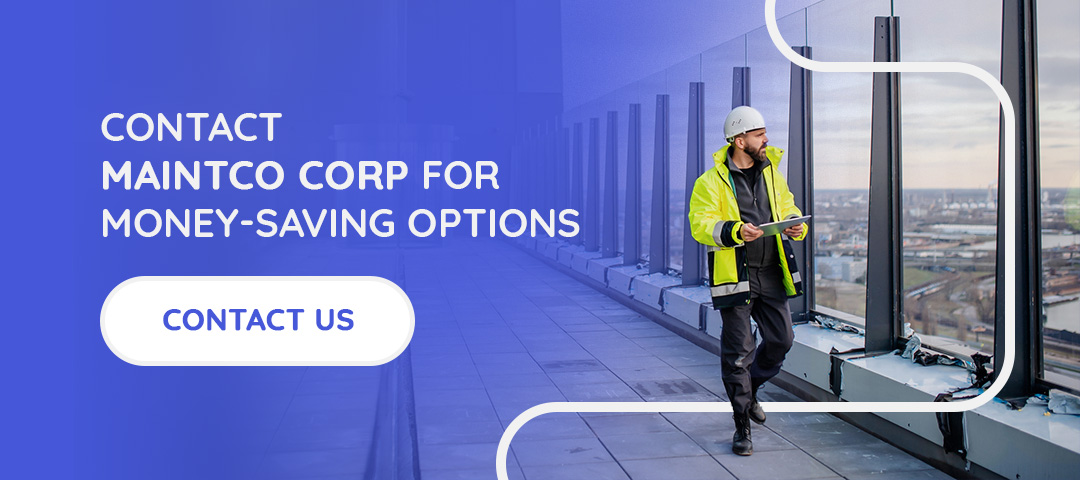 Contact Maintco Corp for Money-Saving Options
With extensive knowledge and leadership at our core, we build long-term relationships with businesses in California and its neighboring states. Contact a Maintco Corp representative today to learn more about how we can support you during rising gas prices and inflation.