Why Investing in Your C-Store Leads to Increased Profitability
Posted on: October 7, 2022 in Convenience Stores
Share:
Investing in your convenience store can benefit your customers and business alike. From reorganizing inventory to tackling a construction project, various undertakings can help improve your company and its earnings. 
We are exploring the many ways you can invest in your c-store and why it is important to update your business from time to time. Strategically putting money back into your convenience store can help you continuously refine your business model.
Are you interested in ways to boost your store's profitability? Learn more about the importance of investing in your gas station or c-store. 
Why Update a Convenience Store?
You can increase your c-store's profits by taking steps to improve operations and make the most of your space. Explore the following reasons why convenience store owners should consider updating their businesses: 
Meet More Customer Needs
One of the greatest reasons you should update your c-store is to meet more of your customers' needs. By putting yourself in your shoppers' shoes, you can identify new and helpful ways to accommodate them while they browse the aisles at your store. 
Businesses that actively seek ways to mitigate customer pain points and create a better experience will benefit from happier and more loyal shoppers. Owners can boost their profits by incorporating a better selection of products and a more functional store layout. 
Improve C-Store Presentation
Another reason to update your c-store is to improve product presentation. Every convenience store should be well-organized and strategically set up to showcase items effectively. 
The right presentation can help boost sales. Consider ways to make your store more accessible and inviting for your customers. When your store is easy to navigate and well-kept, shoppers will feel more inclined to spend their hard-earned money than in a store that neglects presentation. 
Your business can turn to visual merchandising principles to establish a well-thought-out setup.
Gain a Competitive Edge 
As of January 2022, there were 148,026 convenience stores in the United States alone. With so much competition, your c-store needs regular updates to support steady growth. 
Both minor projects like reorganizing merchandise and major projects like remodeling your store's restrooms can have a huge impact on your business. Ongoing improvements can differentiate your convenience store from other local options and encourage your customers to be loyal to your specific location. 
Convenience Store Improvement Projects to Increase Profitability
If you are looking for ways to enhance your c-store and boost profits, consider getting involved in one or more of the following improvement projects:
1. Update Your Lighting
Lighting is a great place to start if you want to take on convenience store improvement projects. Lighting is a critical part of your store's presentation, and it must comply with Title 24 for energy efficiency standards. California has a designated energy code designed to minimize unnecessary energy consumption in nonresidential buildings. 
Maintco Corp can assist your improvement project with Title 24 lighting acceptance testing and consultation services. Our certified Acceptance Test Technicians (ATT) can provide your business with inspections and certification documentation. Your convenience store can enjoy saving on energy costs by updating your lighting.
2. Make Your C-Store More Accessible
Another way you can improve your c-store and increase profits is by making your business more accessible. Consider projects that can remove barriers from your business that could make accessing your store more difficult for certain populations. 
The following are ways to make your store more accessible:
Adding ramps to the entrance
Replacing door hardware with easy-to-use options
Remodeling restrooms to accommodate larger stalls
At Maintco Corp, we offer American with Disabilities Act (ADA) consultation services in Los Angeles. We ensure all your customers can easily access your facilities and support your business's growth.
3. Remodel Your Space
Convenience stores can enhance their profitability with various remodeling and construction projects. Whether you want to expand your building to accommodate new services or renovate to address some much-needed repairs, it can be very advantageous to upgrade your space. 

Maintco Corp offers c-store construction services so you can transform your business and make your building more functional for operations. We have almost three decades of experience working on convenience store construction projects. We understand how to create an environment that complies with all necessary standards and is safe for your customers and employees. 
4. Strategically Place Inventory
If you are looking for ways to increase the ROI of your c-store, consider inventory placement and organization. By reorganizing merchandise, you can boost sales and make your space more welcoming for your customers. 
Here are some tips for making the most of your store's inventory setup:
Follow your planograms: If your store uses planograms to map out merchandise, be sure to follow these to a tee. 
Put most popular items at eye level: There is a merchandising principle that states eye level is "buy level," meaning the items positioned on shelves at this height are most likely to sell. 
Move items that interfere with functionality: If you have inventory customers often bump into or knock over, be sure to move those items or displays to maximize comfort and maneuverability in your store. 
5. Enrich Your Inventory
Your c-store can boost profitability by working on your inventory. To begin, you must identify what items are slow to sell and take up valuable shelf space. Suppose you have thousands of dollars of inventory sitting in your store. In that case, you are missing out on the opportunity to use that money in other ways to improve your business, such as marketing or construction projects.
Look for opportunities to swap out unpopular goods with new supplies that can expand your offers and grow your sales. 
6. Regular Facility Maintenance
Regular facility maintenance is another way to improve your c-store and increase its profits. Your customers want a clean and safe space to shop, so keeping your space well-maintained is essential. At Maintco Corp, we offer facility services, including:
HVAC
Paving
Plumbing
Sanitation
Electrical
Flooring
Turn to Maintco Corp For Your Convenience Store Construction Needs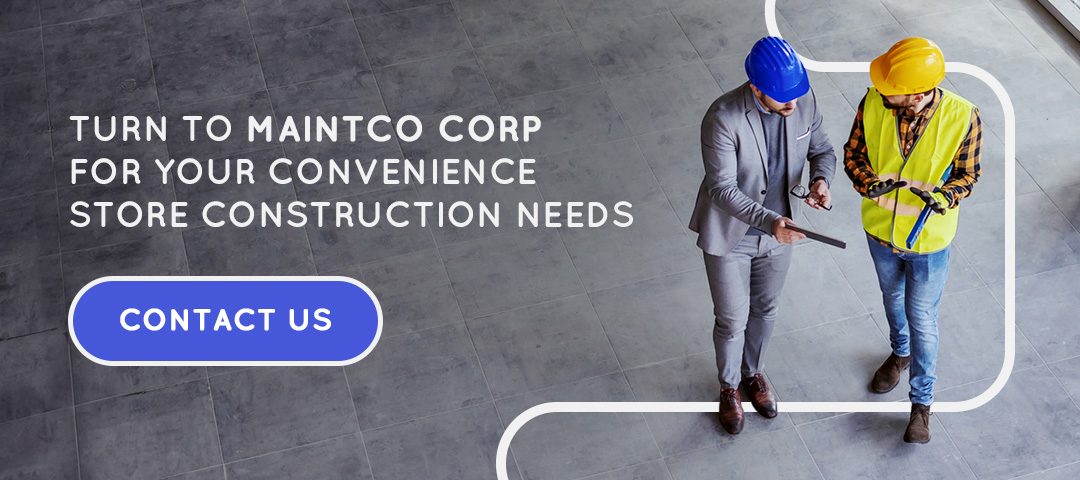 If you are ready to invest in and increase the profitability of your convenience store, turn to Maintco Corp. We have provided commercial construction and maintenance solutions for convenience stores for over 25 years. 
At Maintco Corp, we prioritize the highest level of customer satisfaction to ensure we meet your project's goals. If you are a c-store owner in the Los Angeles area, we can help you improve your business and maximize your revenue. 
Are you interested in learning more? Contact Maintco Corp to get started on your convenience store project today!