Guide to California Cool Roofing Requirements
Posted on: May 26, 2021 in Roofing
Share:
Cool roofs are one of the latest trends in sustainable and energy-efficient buildings. California has been a pioneer in adopting these roofs in warm climates here in the United States. It's the only state with energy efficiency guidelines that include requirements for certified cool roofing materials. For most local businesses, a heat-reflective roof is a fantastic investment because it can reduce your building's cooling costs. Still, the standards in California's Title 24 cool roof requirements can be challenging to navigate.
As a commercial roofing contractor in Los Angeles, we've been installing energy-efficient white roofs for years. As experts on the cool roof requirements in California, we can help you understand the standards and install a compliant roof for your building.
Explore Cool Roofing Options Today!
What Is a Cool Roof in California?
On a hot day in Los Angeles, a conventional roof is the hottest part of a building. It's the closest to the sun and receives the most direct light. Since roofs on commercial buildings often extend above the highest nearby trees, the top of the building gets almost no shade. Additionally, conventional roofs are usually made from darker colors and materials that absorb heat. Common materials include asphalt, tar, black rubber, fabric or some combination of the four. If you've ever felt the heat emanating off the blacktop on a hot summer day, you can start to imagine just how hot the roof is.
While insulation stops some of that heat from trickling down into your building, it's not perfect. A conventional roof increases your energy costs by forcing your air conditioning unit to work harder. It's also worse for the environment. As it does with most materials, heat will accelerate your roof's deterioration. Over time, you'll spend more money maintaining a conventional roof.
A cool roof counteracts many of these harmful effects. It uses specialized materials to reflect more of the sun's light and emit heat rather than absorb it. In some cases, it can be just five degrees warmer than the ambient outdoor temperature. These roofs use white or other light colors and reflective materials to achieve this effect. You can also find shingles in a range of colors with reflective granules to make a steep-sloped roof more attractive while staying cool.
A cool roof benefits both you and the environment by reducing energy consumption. You'll pay less on your electricity bill, which will also reduce greenhouse gas emissions.
Types of Cool Roofs
If you want to gain the benefits of a cool roof, or your roof type and Climate Zone requires one, you have three options. You can retrofit a roof in good condition with heat-reflective materials. Or, you can recover your roof with new waterproofing that also provides heat reflection. You can also replace the roof altogether. If your roof is relatively old, we recommend replacement unless it qualifies for a retrofit or recovering.
Many commercial buildings have flat or low-sloped roofs. These roof types are often the most in need of cool roofing since they get the most direct sunlight. Some cool roofing options for flat and low-sloped roofs include:
Single-ply membranes: Pre-fabricated roll-on roofing sheets have traditionally used black, heat-absorbing materials. Replacing a single-ply membrane with white sheets or painting an existing roof with a reflective coating can make your roof more energy-efficient.
Built-up roofs: You can upgrade a flat roof in a few different ways. One option is to replace the gravel or topcoat of asphalt with reflective marble chips. Or, you can use reflective mineral granules or a factory-applied coating. An existing built-up roof can receive a coating on top of the asphalt layer.
Modified bitumen sheet membranes: Bitumen roofs are rubber or plastic roofs with fabric reinforcements and a top layer of mineral granules. They can come with a factory-applied cool roof pre-coating.
Spray polyurethane foam roofs: A foam polyurethane roof is cool by design. The material is white and needs a coating to protect it from moisture and UV damage. These coatings are highly reflective.
Metal roofs: Metal is naturally reflective. However, the material is a poor thermal emitter, so a metal roof on its own isn't considered a cool roof. Painting the surface a light color or using a reflective coating should do the trick.
Green roofs: An excellent option for flat and low-pitched roofs, a green roof features plant cover or even a cultivated garden. While it's more expensive to implement, it can offer more benefits than other forms of cool roofs. It can help counteract urban heat islands and qualify a building for environmental certifications. It can also turn your roof into an enjoyable space. Hotels, restaurants and other service industry businesses can use a green roof as an attraction for guests.
Benefits of Cool Roofs in Los Angeles
While many California businesses must have cool roofs to meet state regulations, they also provide many benefits. The most significant advantage to business owners is probably the cost savings. By saving energy, you can help the planet and your budget. You can also help your local area minimize the heat island effect and improve its air quality. Your building occupants will also benefit from more comfortable temperatures.
When you choose a cool roof, you get to take advantage of: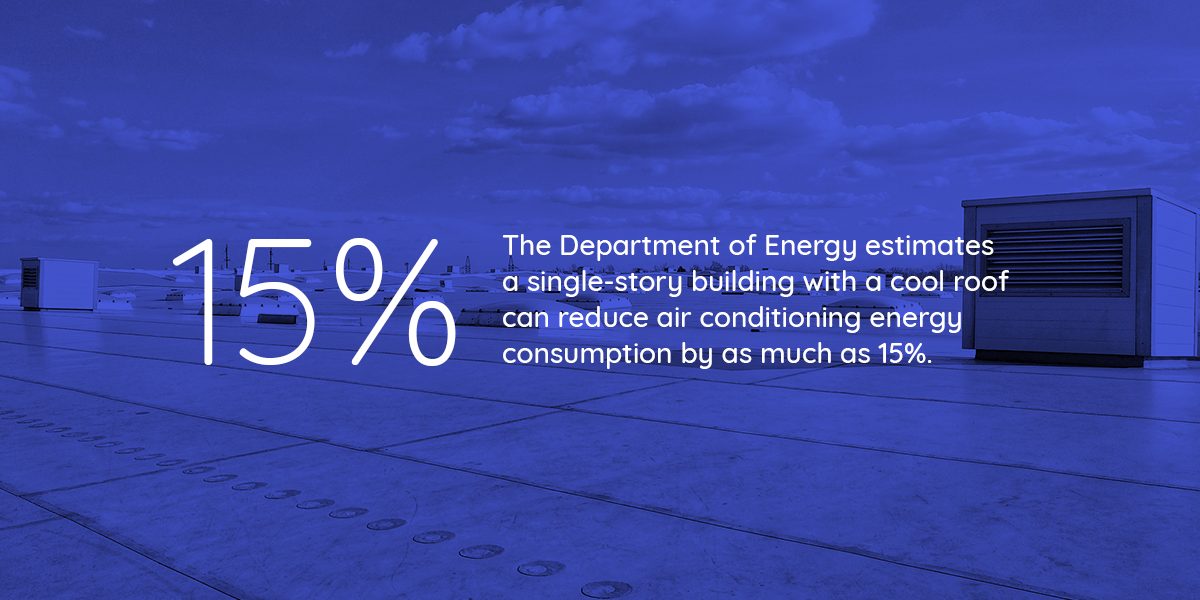 Reduced Energy Consumption
Since cool roofs deflect more heat, they reduce energy usage. In Southern California, air conditioning is a significant draw on the power supply. According to the latest Energy Information Administration data, the average commercial building dedicates 15% of its energy usage to cooling. The Department of Energy estimates a single-story building with a cool roof can reduce air conditioning energy consumption by as much as 15%.
One concern with cool roofs is that they increase heating costs. In sunny California, this isn't an issue. Even in the parts of California where residents must heat their homes for part of the year, the cool roof energy savings from reduced air conditioning needs usually outweigh the increased heating needs.
Cost Savings
A smaller electricity bill comes hand-in-hand with energy savings. And the great news is that cool roofs aren't incredibly high-tech. The technology relies on the simple principle that light colors absorb less heat than dark colors. Therefore, white reflective roofs don't generally cost more than conventional roofs. It's only a significant added investment if your roof is still in good condition and you want to convert it.
A study out of California estimates that a cool roof provides an annual net savings of nearly 50 cents per square foot. This number accounts for the higher costs of premium roofing materials and increased heating needs.
Besides saving energy, cool roofs can also help you save money through California's rebates and incentives. You'll save on air conditioner maintenance and can downsize your air conditioning equipment. Since a cooler roof will stay in good condition longer, you'll also save on roof maintenance and replacement costs.
Environmental Stewardship
Cool roofs are good for the planet. While there are many environmental advantages, reducing energy usage through lowered air conditioning needs has the biggest impact. It lowers greenhouse gas emissions to reduce air pollution.
In urban areas, a cool roof can also help to counteract the heat island effect. Dense cities have large swaths of asphalt, flat black roofs and skyscrapers. These structures absorb heat, and daytime temperatures can get 1 degree to 7 degrees warmer than the surrounding area. During the peak summer heat, a white reflective roof will stay 50 to 60 degrees cooler than traditional roofing materials. If many urban buildings feature white rooftops, they can have a significant impact on ambient temperatures.
Since greenhouse gas emissions react with higher temperatures to produce smog, cool roofs can also improve air quality. Through lower energy needs, they help to lower the carbon dioxide emissions from local power plants. By also lowering the ambient temperatures, cities will experience less smog.
A heat-reflective roof can also help a building qualify for Leadership in Energy and Environmental Design (LEED) certification. This prestigious certification for green buildings offers points for reducing the heat island effect. A high-reflectance or vegetated roof can earn a building up to two credits toward LEED certification. As a LEED-accredited construction company, Maintco Corp can help you plan a cool roof installation and other LEED-qualifying projects to get your building certified.
Improved Indoor Comfort
Whether your building has air conditioning or not, a cool roof will lower indoor air temperatures in the summer. A cooler building is more comfortable and protects occupants from heat-related illnesses. If your facility does not have air conditioning, installing a white roof will significantly impact occupant health and safety.
Work With The Top Commercial Roofing Contractor in Los Angeles!
California Cool Roof Requirements
California's Title 24 cool roof requirements contain many standards for heat-reflective roofs and which buildings need them. Most commercial roofs in California must use certified cool roofing materials for any project that covers a large enough surface area. The exact laws are listed in 2019 Title 24 Part 6, which went into effect on January 1, 2020. The specific requirements for your company's roof depend on the California Climate Zone where you're located and what type of roof you have.
You'll need to consult the California Title 24 Part 6 Cool Roof Requirements for any new construction, addition or alteration covering more than 50% of the total roof or 2,000 square feet, whichever is less. Replacing, recovering or recoating a commercial roof usually qualifies.
The basic requirements set minimum aged solar reflectance and thermal emittance levels for roofing materials. Both are measured on a scale of 0-1, with values closer to one equating to better performance. Alternatively, you may use the Solar Reflectance Index (SRI) ratings. These scores have values ranging from 0 to 100. The lower the rating, the less reflective and the hotter the material will become in the sun. The higher the rating, the cooler it will stay in the sun.
Most commercial buildings will need to follow the requirements for nonresidential buildings. A high-rise residential complex, hotel or motel will follow slightly different standards.
Nonresidential Buildings Cool Roof Requirements
Most commercial buildings count as nonresidential buildings in the Title 24 part 6 cool roof requirements. These include: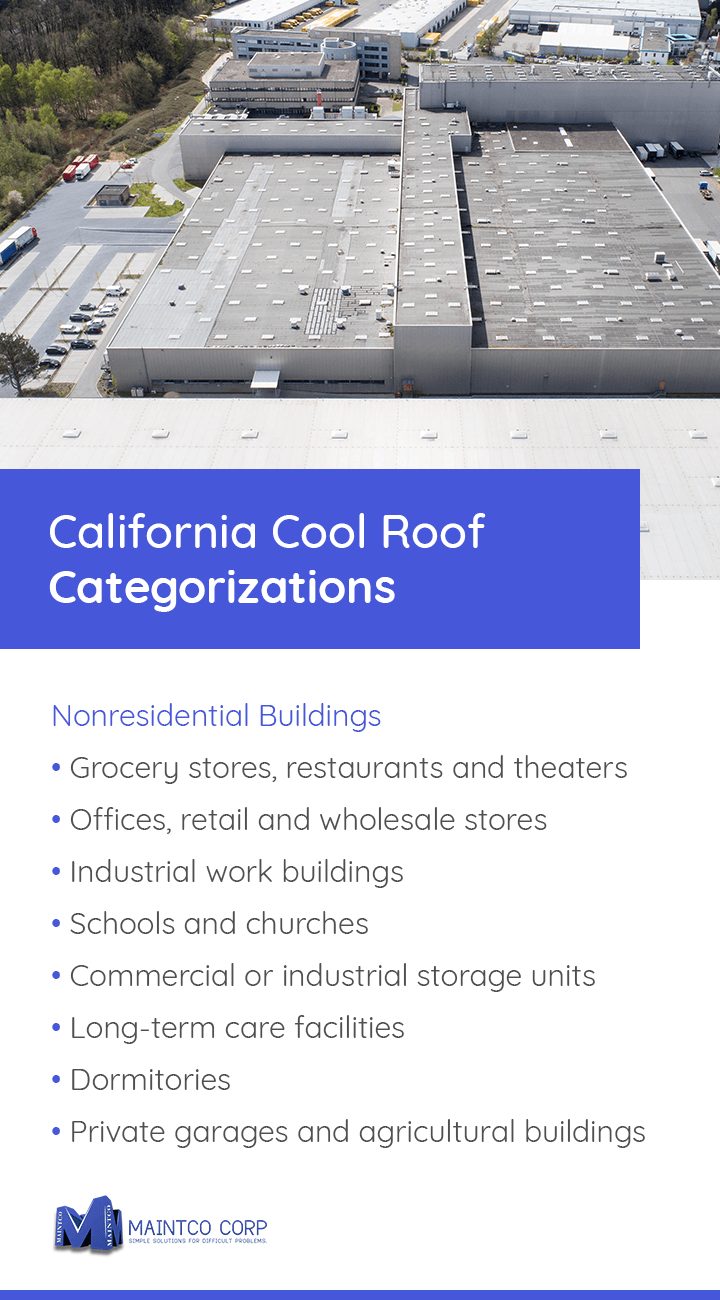 Grocery stores, restaurants and theaters
Offices, retail and wholesale stores
Industrial work buildings
Schools and churches
Commercial or industrial storage units
Long-term care facilities
Dormitories
Private garages and agricultural buildings
Except for high-rise apartments, hotels and motels, all nonresidential commercial buildings will follow the same requirements, no matter the Climate Zone. To determine what rules you must meet, you need to know whether your building's roof has a low slope or a steep slope. Most commercial buildings have flat roofs that qualify as low slopes. Any roof that goes up less than 2 inches for every 12 inches of horizontal space counts as a low slope. If your roof goes up 2 inches per 12 inches or more, it is a steep-sloped roof.
Low-sloped nonresidential buildings in Climate Zones 1-16 must meet one of two standards. They can have an aged solar reflectance of at least 0.63 and a thermal emittance of at least 0.75. Or, they must have a minimum SRI of 75. The three exceptions to this rule include:
Wood-framed roofs in Climate Zones 3 or 5 that have an insulation U-factor of 0.034 or lower.
Rooftop constructions above the roof membrane that weigh at least 25 pounds per square foot.
A roof with ceiling insulation that does not exceed its maximum U-factor can have an aged solar reflectance of less than 0.63.
If your commercial building has a steep-sloped roof in any California Climate zone, it can meet much lower standards. Your roof should have an aged solar reflectance of at least 0.20 and a thermal emittance of at least 0.75. Alternatively, your roof must have an SRI of at least 16.
Cool Roof Requirements for High-Rise Residential Buildings, Hotels and Motels
If your building qualifies as a high-rise residential building, hotel or motel, you'll need to meet different requirements depending on your Climate Zone.
Low-sloped roofs in Climate Zones 9, 10, 11, 13, 14 and 15 must have either:
A minimum aged solar reflectance of 0.55 and a minimum thermal emittance of 0.75.
An SRI of at least 64.
The exception of a roof construction that weighs at least 25 pounds per square foot over the roof membrane also applies in this case.
If you have a steep-sloped building in Climate Zones 2 through 15, it must have either:
An aged solar reflectance of at least 0.20 and a minimum thermal emittance of 0.75.
A minimum SRI of 16.
Meet California Cool Roof Requirements
California Cool Roof Rebate
Your commercial building likely needs to meet California's cool roof requirements. Luckily, the state and many counties and cities have put together some resources to help businesses afford their roof upgrades.  The CoolCalifornia.org Funding Wizard can help your business find grants, incentives and rebates for your white roof and other sustainability projects in your area. As experts in energy-efficient roofing and other sustainable construction projects, Maintco Corp can also help. We can work with you to ensure you can qualify and collect on the maximum California cool roof rebate in 2022.
Some of the rebate programs for cool roofs available to businesses in California include:
Los Angeles Cool Roof Rebate Program
As the first city to require cool roofs for nearly all residential and commercial buildings, Los Angeles has an excellent cool roof rebate program for heat-reflective roof installations. The Los Angeles Department of Water and Power will pay you by the square foot for a cool roof installation.
You can earn a rebate of $0.20 per square foot on a low-sloped roof with an SRI of 75 or higher. A steep-sloped roof with an SRI of 16 or higher can also earn this rebate. You can earn $0.30 per square foot for an SRI of 85 or higher on a low-sloped roof or an SRI of 35 or higher on a steep-sloped roof.
Anaheim Energy Efficiency Rebate Programs
Anaheim Public Utilities has two energy efficiency rebate programs for local businesses. They include:
Customized Energy Incentives: While the company doesn't offer a specific heat-reflective roof incentive, they will work with you to build a custom incentive program for energy efficiency upgrades such as cool roofs. Based on your building's performance after installation, the utility provider could cover 25% of the project or $50,000, whichever is less.
New Construction Incentives Program: Anaheim Public Utilities will work with you on your new construction or renovation project to exceed Title 24 standards. It provides a maximum incentive of $50,000 per facility.
Contact Maintco Corp for Help With Your Cool Roof Project
As a construction company serving California and the surrounding states, Maintco Corp is dedicated to helping businesses like yours find green and energy-efficient construction solutions. We've been leading the way in sustainability for years. As members of the Cool Roof Rating Council and the United States Green Building Council, we're uniquely qualified to get your cool roof installed right. We install white and reflective roofs that contribute to a long-term energy-saving strategy for your building.
To learn more about our white roofing solutions, call us at 818.276.6300. Or, contact our team online and begin discussing your project. Learn more about our cool roofing services and get started on your project today.