Enterprising Women: Female CEOs Changing the Commercial Service Industry: Inna Tuler, Maintco Corp.
Posted on: April 23, 2021 in Inna Tuler
Share:
Original Article: https://www.enterprisingwomen.com/
Inna Tuler
Maintco Corp.
This Los Angeles-based general contractor has flourished over nearly 30 years in business.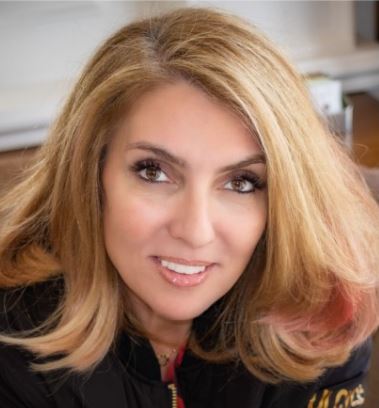 A well-known ancient proverb says, "The journey of a thousand miles begins with a single step." It's a powerful statement that has meant much to me throughout my entire life on many different levels. It was while growing up in Ukraine and beginning to study piano at five years old that I first learned the value of this proverb. Staring at a piece of music that my teacher set down on the piano for the first time, I protested that never in my wildest dreams could I learn to play all the notes at which I was staring. But my teacher, a wise woman in her 70s, simply explained to me to start with the first note and proceed from there.
She was right and it wasn't long before I was playing complete pieces, always starting with the first note. I learned to take the first step in a long journey that eventually would culminate in my becoming an accomplished concert pianist, first in Ukraine, and later in Israel after emigrating there in 1976.
Upon immigrating to the United States from Israel in 1991 with my late husband and two young daughters, I would once again find myself heeding the advice of the ancient proverb, though this time it would be far removed from the concert stage on which I had spent many years. With not much much more than what we could bring in several suitcases, I knew I would soon be embarking on a new journey, although at the time I wasn't quite sure where it would lead. But regardless, I knew I needed to take that all-important first step.
That first step involved borrowing $1000 at a 29% interest rate, which allowed my husband and me to purchase a carpet cleaning machine that would lay the foundation for what would become Los Angeles-based Maintco Corp. In the beginning, almost 30 years ago, the company filled a need in the property management industry, where we completed upgrades and general services required to bring rental properties to a clean and fresh condition for new renters to occupy.
Since then, I have succeeded in the evolution of Maintco, as now the company is a premier full-service general contractor in the retail, food service, and commercial property industries. Our clients include customers in convenience & grocery stores, hotels, fitness studios, retail, schools, manufacturing plants, restaurants and residential living.
The goal from the beginning was to create a company that would provide complete facility and construction needs of our customers. To that end, Maintco Corp now does approximately 75 remodels per year + 7,500 service calls (24/7 – including situations like a car driving through the front of a business or making a store ADA compliant). During the pandemic – we have also pivoted to include/specialize in helping businesses reopen safely and Covid compliant. This involves anything from deep cleaning, to installing plexiglass, to constructing social distancing barriers, to developing new hands-free technology and equipment.
Just as important as providing for the controlled growth of the company was for the Maintco team to flourish and expand. I have worked hard for the last three decades to grow my company, as well as myself personally. My original reason for developing Maintco was to build a strong company that cared about the customer, the team, and the community. I have taken several steps to improve myself through organizations based on support and education. Some of these organizations are specific to women and others are for "C" level management – allowing a supportive group to work through situations and hurdles by sharing experiences and mentoring. I remain dedicated to the goals of the company set by myself and my husband in 1991. The bottom line is that I knew that if we did this correctly, all would benefit.
I am extremely proud of my team and what we have been able to accomplish together. I am most proud of the personal development of myself and my staff. Together, we have built a system whereby anyone who wishes to improve themselves is supported in their dream to grow and assisted in the expansion of their knowledge and skillset.
For example, most of our service technicians have been cross-trained and certified on multiple trades or pieces of equipment. This allows for Maintco to better serve the client, giving more confidence in us, which grows our revenue. This practice also provides the technician a sense of pride for their accomplishments. As a result, several have started their own business and expanded personal growth for themselves and their families, something for which I am very proud.
Just like taking the first step in a thousand-mile journey, my plan takes calculated risks and takes full advantage of opportunities that present themselves. I believe in my team and their ability to manage multiple tasks. Everyone is a salesperson, a service counselor, and a project manager for our customers. We have used the same statement to drive every aspect of the business, and this "Simple Solutions for Difficult Problems." For Maintco to grow on any level, we must be prepared to understand the needs of the customer, as well as have fully trained personnel to provide for those needs.
As we begin to work with a new client, we simply ask them to describe their biggest facility headache. Once we have a grasp of their deepest concerns, we can apply our experience in resolving the concerns efficiently, and in the most cost-effective manner possible. The process we take to understand the customer's needs, provides a multi-layer benefit. The customer gains an appreciation for our interest in not only the work but for the issues they are suffering. Understanding the issues generates a partnership between the client and Maintco. We become much more than just a general service provider. We develop a partnership in the success of our customers.
The heart of the company was personified by my husband's desire to be known as the value-added quality choice within the retail, food service and commercial property industries. I have continued and grown his legacy since his passing in 2011, and am proud to continue to have family working alongside me in these endeavors.
My vision of growth is to continue our culture of multiple service departments that can work well independently, but when used in a symbiotic manner will provide an extremely strong, distinct source of turn-key support. I am very proud of the company we have built and look forward to the opportunities that will open up for us in the future. And I know there will always be another thousand-mile journey that begins with that all-important first step, a step I will happily take.
Inna Tuler is the founder and CEO of Maintco Corp. (www.maintco.com), a premier general construction company specializing in turn-key service, repair, and remodeling. Maintco is one of the fastest-growing women-owned businesses in California. Tuler is also involved in several professional organizations and charities. She can be reached at inna@maintco.com.